Tech Adoption in Hospitality Increased 135% Since 2019. What Are Your Plans?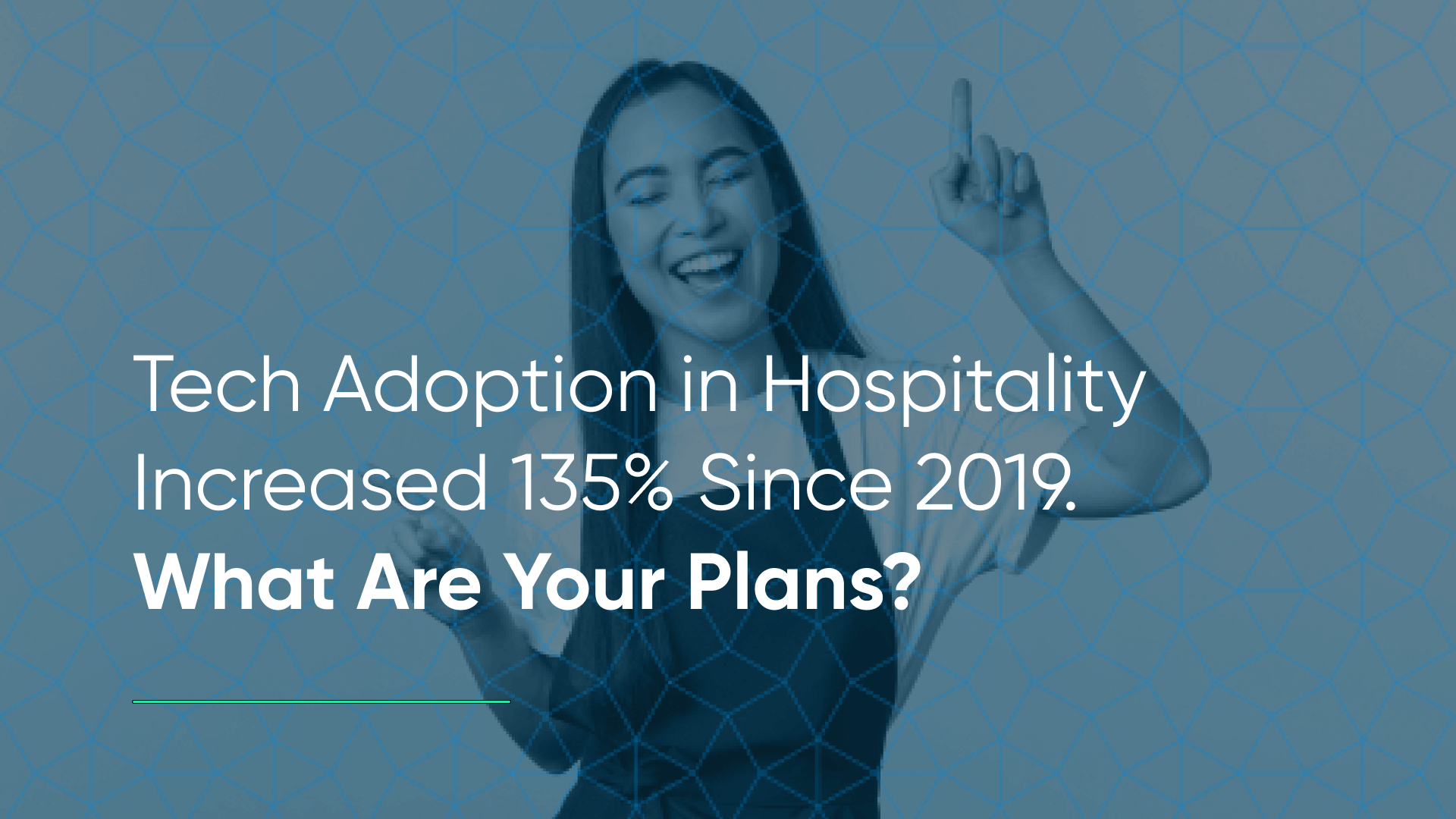 Technology adoption in hospitality was slowly gaining traction, but thanks to COVID-19 and the rising minimum wage, managers have begun to rapidly accelerate all efforts towards tech-enabled operations.
But how many businesses are actually adopting new technologies, exactly solutions are they seeking out? We compared the results of our 2019 Minimum Wage Survey to our 2021 Minimum Wage Survey to find out.
Hospitality operators' intent to adopt labor-efficient tech has increased by 135% since 2019. 
While this is certainly a large increase, the numbers aren't shocking.
COVID-19 has changed the way operators approach technology. What once was a "nice-to-have" is now considered a strategic ally for enterprise hospitality companies seeking to optimize business practices.
Why is that? When your employees are successful, your business thrives. True operational success is built from the bottom up. The right technology empowers unit-level employees and managers alike to unlock their fullest potential.
This sentiment has only deepened amidst the rising minimum wage, with a growing emphasis placed on technology to increase efficiency while staying compliant with wage and labor laws. 
Talent will flock to employers with a better employee experience

Rising labor costs call for increased labor efficiency

Compliance challenges will only grow more complex
We believe the next frontier for digital transformation has everything to do with employee-facing technology.
As more and more hospitality businesses adopt HCM technology and other solutions, tech adoption is being increasingly critical to ensure operational success and strong business performance.
What HCM tech are hospitality operators adopting?
Hospitality operators are looking at ways to better meet the needs of both their workers and their customers. They want to become cost-effective while increasing productivity. What capabilities will they add to their HCM tech stack to achieve operational success?
Hospitality's tech-adoption breakdown:
52% a predictive scheduling platform

49% a more efficient hiring platform

46% labor-related compliance tools

29% biometrically controlled time and attendance systems
You'll notice that this list, although not exclusive, has everything to do with employee-facing operations affecting critical functions of macro and micro-level operations.
Businesses that aren't already making moves towards empowering their employees to do more are missing out on opportunities to better understand and organize business data, optimize processes, and get the most out of labor costs. 
Below, we dive into the areas that businesses are seeking to implement technology processes and how this adoption can further improve the overall employee experience.
Predictive scheduling platform
52% of hospitality operators will adopt a predictive scheduling platform, making it the most sought-after technology. Considering how much is tied to employee schedules (the employee experience, turnover, labor spend, customer service, and much more) it's no surprise that this is the most popular response.
The world of scheduling has grown so complex, yet managers are often left to navigate schedule creation, shift swap requests, PTO requests, and compliance rules on their own — and that's not even considering their other day-to-day responsibilities. 
Without an intelligent scheduling platform, operators leave themselves open to error and excess labor spend as they juggle multiple moving parts. Compliance alone is a huge driving force behind hospitality's need to adopt a predictive scheduling platform. Predictive scheduling laws like Fair Workweek and other labor compliance requirements aren't going away. In fact, more and more states are adopting Fair Workweek practices. These are only growing more complicated as they overlap with incoming local and federal labor laws. 
Juggling compliance requirements is no simple task. Say you're a manager overseeing 100 employees over 3 locations. Not only do you need to provide employees with advanced-notice schedules (which are bound to change), but you must factor in break requirements, employee availability, labor spend, and predicted customer demand. 
Employee shift swaps can get messy, too. Is that shift swap labor compliant? Will one of the employees be eligible for overtime pay if they take the new shift? The list of potential scheduling and compliance pitfalls is seemingly endless. That's where tech to improve the employee experience comes in.
Why adopt a predictive scheduling platform
Poor scheduling is hospitality's single highest factor that results in employee turnover. It's the crux of the employee experience, directly correlates with service performance, and can make or break labor spend. Employee-focused scheduling technology improves experience and efficiency on all fronts.
Intelligent scheduling enables hospitality businesses to take an integrated approach to the optimization of critical scheduling considerations such as labor, compliance, sales, and publishing efficiency.
Take an all-in-one scheduling platform like Harri. At-a-glance info like hours worked compared to labor spend, overtime warnings, and integrated labor forecasts give managers all of the tools they need to easily create labor-efficient schedules.
Part of mastering the art of scheduling includes staffing the right employees in the right places at the right times. Templated schedules and the ability to create schedules based on position and/or skill help get those aces in places. 
And because Harri was built specifically for the nuances of the hospitality industry, Fair Workweek compliance is automatically factored into the employee schedule. Operators are notified if and when an employee is eligible for a break, if a shift is eligible for premium payments, and other key compliance metrics.
When all of those prerequisites are handled under one roof, managers are given back so much time to their day, allowing them instead to focus on serving up an excellent customer experience.
The icing on the cake? Harri's scheduling tools are all mobile. That means managers can make published schedules on-the-fly while ensuring real-time scheduling information is easily accessible to all employees. This doesn't just save managers time and effort, the improved team-wide transparency better empowers unit-level employees to plan their lives around the schedule.
Efficient hiring platform
49% of restaurant operators plan to adopt a more efficient tech hiring platform. Talent acquisition can be an expensive process, making a mishire that much more painful to your bottom line.
The need for new talent will never go away. This is especially true for hospitality businesses that are facing a worsening talent crisis. 
A technology platform that empowers managers to not only quickly find new hires, but find the right hires that fit your business' unique needs. This can save managers hours on sourcing through hundreds of unqualified candidates and interviewing candidates who might not be a good fit for the role.
Applicants aren't the only ones putting effort into proving they will be a good fit, companies also have to put in work to show why they would be a great fit for the applicant. Gen-Z hires, in particular, prefer employers with clear values that align with their own.
Adopting hiring tech lets businesses show their brand to a broader talent pool so that they can promote their company's values and culture, provide employee testimonials, and get people excited about joining their team. 
And if you take longer than 24 hours to respond to those candidates? Chances are you lost them, which significantly devalues pre-hiring efforts up until that point. 
However, for restaurant managers who are already so busy, keeping track of and engaging with dozens of candidates throughout various hiring stages, can be difficult without the right tools. Once again, it comes down to empowering your team to succeed.
Why adopt an integrated hiring platform
Talent attraction, applicant tracking, and onboarding don't have to be time-consuming tasks; the right platform transforms them into data-driven and highly effective processes. Every step, from the first time a candidate sees your job ad to their first 90-days on the job can be transformed into a high-touch experience — all without adding additional burdens onto your team.
An all-in-one HCM platform is a versatile tool in the hiring flywheel to ensure consistent, high-quality candidates. Frictionless mobile applications, career branding, customized application flows, and more enable larger, diversified talent pools.
Harri's hospitality-focused pre-hiring tools make it easy to see exactly what stage every candidate is at (and view relevant information) at a glance. All applicant data automatically flows directly to the ATS as candidates progress to create a centralized experience for all parties involved in the hiring process. That means less time spent organizing the status of every candidate or weeding out poor fits, and more time focusing on the talent you want to introduce into your organization. 
A well-rounded applicant tracking platform is key to empowering managers to contact top talent within that 24-hour window mentioned earlier. This highlights the importance of interview flexibility SMS candidate communications, and video interviewing tools — especially during COVID-19.
But efficient hiring doesn't end there. Digital onboarding platforms create a centralized, organized location for all employee documents, unifies HR and payroll to keep employee data in sync, allows team members to easily and approve tax documents, and enables new hires to provide digital e-signatures from any device. Gone are the days where managers frantically search for pre-hiring documentation, Harri maintains all resources in an easily accessible platform.
29% of restaurant operators intend to implement a technological platform for biometrically controlled time and attendance systems. 
Integrated time and attendance systems are used to empower managers to administer rules related to early, late, and unscheduled clock-ins to reduce and track labor costs. Restaurant managers also rely on this technology to completely employee buddy punching and time theft.
And if your T&A platform is biometrically controlled, facial recognition or fingerprint scanning technology can be used to further ensure honest clock-ins right from a mobile device. 
This level of tracking is even more important during COVID-19, where restaurant operators must keep an accurate, up-to-date list of which employees are working what shifts. If an outbreak occurs, businesses using time and attendance platforms are prepared to immediately provide staffing information at the time of infection.
Time and attendance technology brings peace of mind to your teams while holding individual employees accountable for timely shift start and end times.
Why adopt an integrated time and attendance platform
Currently, most time and attendance systems are linked to the POS. This fragments all T&A data within a separate system, preventing employers from connecting the dots between basic team KPIs. It also prevents automation related to PTO, overtime, payroll, and compliance.
Harri's all-in-one time and attendance platform provides a dynamic, biometrically controlled clock-in and clock-out platform. Robust POS integrations allow for easy login and shift-logging, while also connecting with all other HCM data points to ensure a fully integrated system.
Managers can keep labor costs low by preventing employees from clocking in too early, requiring employees to enter their earned tips at the end of each shift, and allowing unpaid breaks for eligible shifts without requiring managers to remember break laws.
Hospitality operators also utilize time and attendance platforms to collect employee feedback regarding the quality of their shift, overall satisfaction, and menu performance. This helps management proactively gauge employee sentiment and provides workers an opportunity to feel heard. That feedback can then be used to identify areas of improvement in the employee experience to decrease turnover.
What's more, T&A data is used to ensure compliance with Fair Workweek and other labor laws affecting hourly employees and minors. More on this below.
Labor compliance platform
46% of restaurant operators plan to adopt a labor compliance platform, and that number will only continue to grow as new wage and labor regulations hit US businesses.
More and more hospitality groups are seeking a solution to ensure compliance with FLSA, Fair Workweek, and other federal or localized laws.
On the surface, these laws may seem like an operational and legal hassle. However, they were put in place to provide a better employee experience, which benefits hospitality in the forms of lower turnover rates and increased business performance as a result of happier, engaged staff.
Violating these labor laws can result in hundreds of thousands of dollars in legal fees and employee payouts — that's a serious hit on your bottom line and your employee experience. This easily transforms labor compliance technology from a "nice to have" into a "must-have" for any hospitality business.
The legal and financial implications further underscore the need for employee-facing technology. Should managers be responsible for knowing the tiniest nuances of every labor law, and enforce them on your entire workforce? While the answer is technically yes, it's much easier said and done. In fact, some restaurant groups have been known to hire entire compliance managers just to prevent any sort of violation.
Why adopt a labor compliance solution
Above we covered the importance of labor compliant scheduling tools as well as time and attendance platforms, but complete labor compliance digs even deeper.
Managing labor-compliant operations using pen-and-paper methods is downright unscalable, but businesses who invest in HCM platforms that aren't built specifically for the labor compliance needs of hospitality are also shooting themselves in the foot. The right platform prevents heavy compliance burdens from falling on the wrong shoulders — your restaurant managers.
Fair Workweek, the 80/20 rule, tip credit and pooling (and the possible elimination of both), and the removal of at-will employment all require operators to connect dots across multiple HCM departments. If your solution can't weave together time and attendance, scheduling, and payroll at the minimum, managers will be in over their head managing labor compliance requirements.
Harri was built to handle Fair Workweek requirements down to each specific city and state because compliance with these complex labor laws ensures compliance with other, less stringent ordinances.
Recordkeeping is another vital component of labor compliance made significantly easier by an all-in-one HCM platform. When a business goes under non-compliance investigation, they must provide written evidence proving themself innocent or guilty, or risk paying additional legal fines. That means records of employee schedules, payroll data, premium payments, breaks taken (or waived!), and even records of disciplinary actions taken by the employer. An integrated solution automatically collects all of that compliance data and streamlines the process of retrieving that data when needed.
So, what does this all mean? Hospitality businesses that rely on an all-in-one HCM platform to ensure labor compliance benefit from hassle-free legal navigation, reduced non-compliance actions, and intelligent insights on compliance-spend and how it relates to day-to-day processes. Managers can run day-to-day operations without fear of non-compliance breaches — and without spending hours out of their day ensuring 360-degree compliance. Operators are empowered to make labor-efficient decisions without taking away from the employee or guest experiences.
Moving forward with hospitality tech adoption
In a perfect world, all of these above-listed HCM processes are tied together into a cohesive, all-in-one HCM platform. Although tech adoption can certainly be a lot to digest it promises a smarter, futureproofed solution for hospitality managers — and we only covered the basics of tech-enabled HCM processes!
Remember, managers with no intention of adapting business procedures into technological processes may quickly fall behind their competitors who are already beginning to do so. Teams will struggle to keep up with COVID-19 regulations, shifting wage and labor laws, or other operational needs, and as a result, the guest experience will suffer. Not only that, but responsibilities that aren't streamlined by technology will cause an unnecessarily high spend on operation and labor costs where employee time could be put to better use.
True business optimization relies on a unified workforce management system to improve operations from the bottom up. See how an all-in-one platform like Harri enables operational success by driving an excellent employee experience.