Employee Experience Research Reveals What Matters Most to Hospitality Workers Amidst Labor Crisis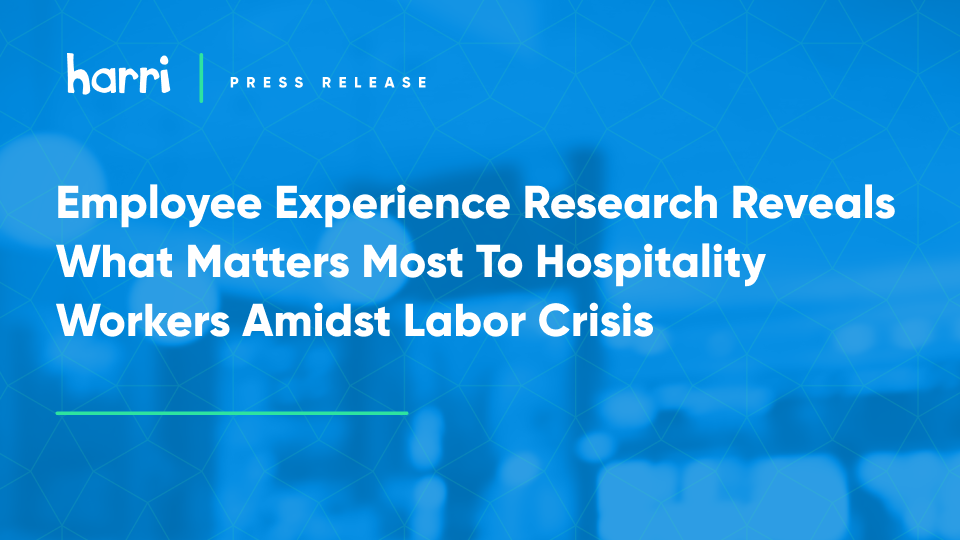 Harri, a leading employee experience platform, announces that predictable scheduling and culture are top priorities for more than half of the hospitality workforce.
NEW YORK, NY (July 26, 2021) – Harri, an enterprise employee experience platform serving over 20,000 restaurant and hotel locations that represent more than 6 million hospitality employees, today released its 2021 Hospitality Employee Experience Report. The report findings represent nearly 7,000 hospitality employees across the US and UK.
This survey analyzes hospitality workers' sentiments and concerns regarding the employee experience as well as their current workplace conditions. Of the respondents surveyed, the top five contributing factors to the employee experience are as follows:
Having a reliable, predictable schedule

Feeling part of the team

Having direct access to tools and training resources

Working hours

Career growth opportunities
About Harri
Harri is a vertically optimized employee experience platform built for service industries. By interconnecting solutions for employment branding, talent acquisition, applicant tracking, hiring, onboarding, retention, scheduling, time & attendance, communications, compliance, employee performance, and analytics, Harri equips enterprise businesses with the ability to build, manage and develop their teams from a single platform. With over 430 clients, supporting 6.1m employees, Harri is helping the globe's most recognizable brands address complex labor scenarios and drive business performance through employee performance.
###
Press Contact:
Dan Murdoch, VP of Marketing
203-970-1127
marketing@harri.com