Harri Talent Acquisition Suite: The Right Tools at the Right Time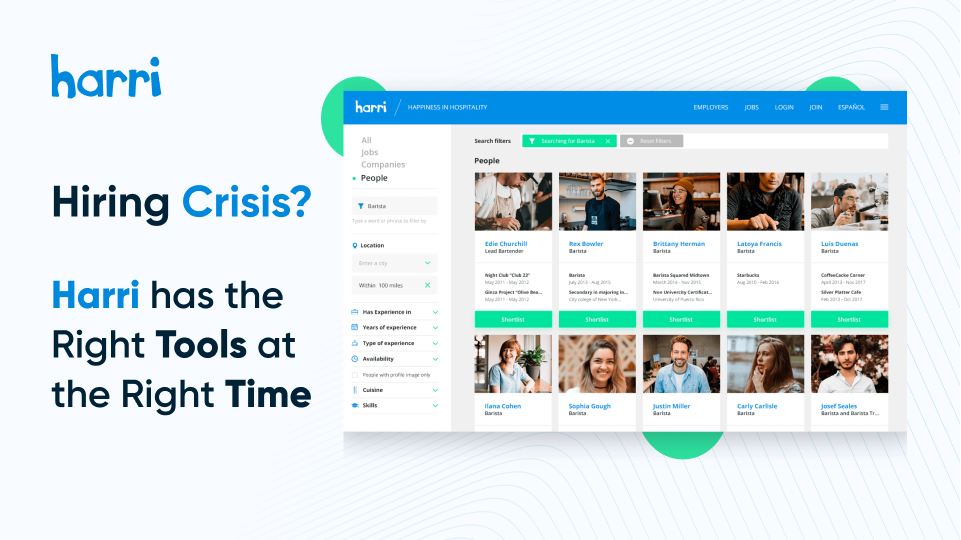 This blog covers the Harri Talent Acquisition Suite. Dive deeper into each of our hospitality-driven talent acquisition products below:
As summer approaches, hospitality's hiring crisis is common knowledge to anyone inside or outside of the industry. From mom and pop shops to fast food chains, most establishments have some sort of "help wanted" signage on their doors.
While many are quick to point fingers at one or two causes of the labor shortage, we don't believe the full picture is painted in a way that articulates the sum of all factors. And until operators understand the root of the issue, they'll never be able to hire and sustain talent.
What factors are contributing to hospitality's hiring crisis?
Increased competition

Benefits schemes

Wages and inflationary pressure 

Hospitality's branding issue (instability and lack of career pathing)

Permanent displacement of labor to new industries

Health and safety concerns

Guest interaction challenges

Poor candidate and employee experiences (especially relating to scheduling flexibility and quality of life)

Vaccination requirements

Immigration labor supply suffocated via Trump-era policies and COVID-19 shutdowns 
The combination of increased guest confidence and eased COVID regulations has resulted in an overwhelming demand for labor. The fight for talent is more competitive now than we've ever seen before. 
To get to the bottom of this, we conducted an employee experience survey asking hourly hospitality workers what means most to them in the workplace to provide a legitimate and highly accurate depiction of what addressing the employee experience should really look like.
We'll share that research here soon (stay tuned!) to help operators understand the true reasons why employees stay in or return to the hospitality industry.
In the midst of all of this, how can hospitality overcome an industry-wide staffing crisis to win the race for talent? 
Introducing the Harri Talent Acquisition Suite. 
The Harri Talent Acquisition Suite has the right tools at the right time to help businesses manage an unavoidable hiring crisis. We've been perfecting the candidate experience from our very existence as a technology partner. We have you covered from the first touch in the candidate journey to their 90th day on the job and beyond.
Career Stories Pages and Career Branding
Bring your employer brand to life by showcasing what it means to work at an organization like yours. Harri takes your career page from good to great…just see how we've helped our clients build amazing candidate experiences.
Display and centralize information regarding job openings, organizational values, culture, employee testimonials, and benefits.

Help job seekers understand why they should work for you and drive excitement at the start of the candidate journey.

Attract passive candidates and create a competitive advantage in offering a unique view into your EVP.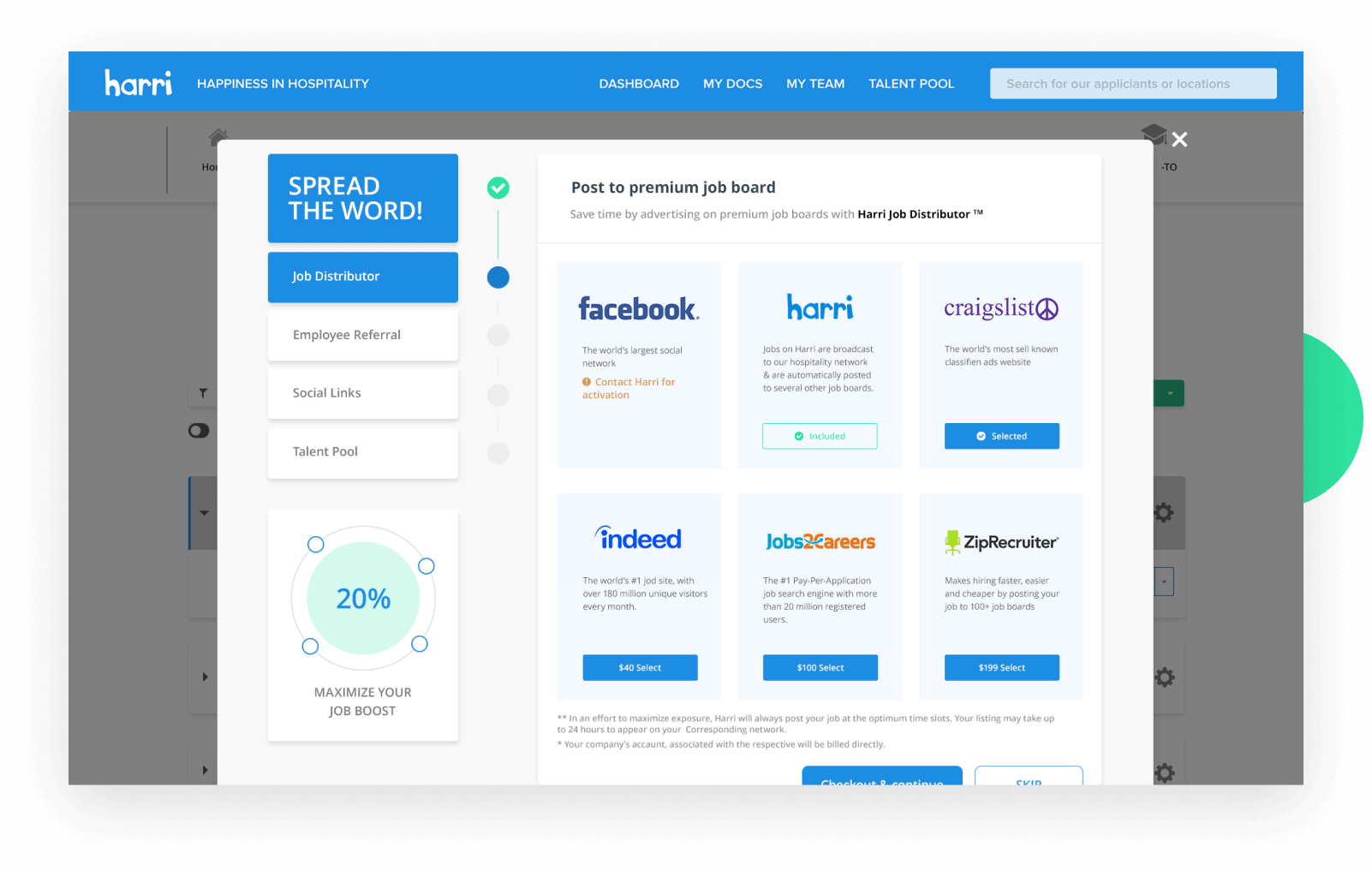 In today's competitive job market, it's critical to make the application experience effortless. Optimize the process by tailoring a delightful candidate experience to your unique business needs.
Select from three preconfigured and custom application templates.

Build custom criteria for each job by defining desired skills, years of experience, and availability.

Adapt job role templates customized for the hospitality industry and save time on the job posting process.

Easily digitize walk-in applications and manage candidates in a single place.
Employee Social Referrals
Activate the most productive method for finding talent in a candidate-driven market by tapping your employees and their networks to find your next great hire.
Managers are able to create unique application links to open jobs for each employee.

Once the job is published, employees are automatically sent a unique referral link via text and email.

Employees can easily share their referral link(s) with their social networks and friends to encourage them to apply.

Track and monitor referrals on an employee and location basis.
Candidate Screening and Interview Management
Streamline your recruitment efforts with our hospitality-centric applicant tracking system.
Organize and filter applicants by assigning tags, groups, and notes to their profiles.

Accept or reject candidates in a matter of seconds with our speedy screening functionality.

Simplify the scheduling process by letting candidates choose availability digitally on a self-select form.
Employee Assessments and Background Checks
Hire confidently and compliantly by integrating best-in-class background-check and assessment tools into the hiring process.
Understand the candidate's potential and level of interest and predict candidate fit during the application process with pre-built or customized assessments.

Improve compliance and streamline operations to hire at scale with integrated background checks.

Focus hiring efforts on top-scoring candidates and gain insight into a candidate's strengths and weaknesses to make better hiring decisions.
Interview Management and Video Interviewing
Streamline the interview process and modernize your approach to scheduling, managing, and efficiently evaluating candidates in a unified platform.
Reduce the time-to-hire and replace tasks like screening, resume review, and calendar coordination by activating video interviews.

Drive better decision-making with a standardized interview process that helps evaluate candidates based on their potential in a side-by-side format.

Offer unparalleled flexibility to candidates to tell their story on their own time, anywhere, and on any device to improve the candidate experience.
Digitize your entire onboarding process and keep required information in a single, compliant place.
Upload custom, state, and federal documents for employees to review and sign.

New hires can complete documents digitally via e-signature functionality.

Send and receive onboarding documents like I-9's and W4's.
Harri has partnered up with best-in-class payroll and HRIS companies, including ADP, Paychex, Paycom, and much more to simplify the process.
Push new hire data to generate the proper profiles and payroll details for each employee.

Initiate the process to unify HR and Payroll to keep employee data in sync.

To view our integration partners, visit our

Partners page

.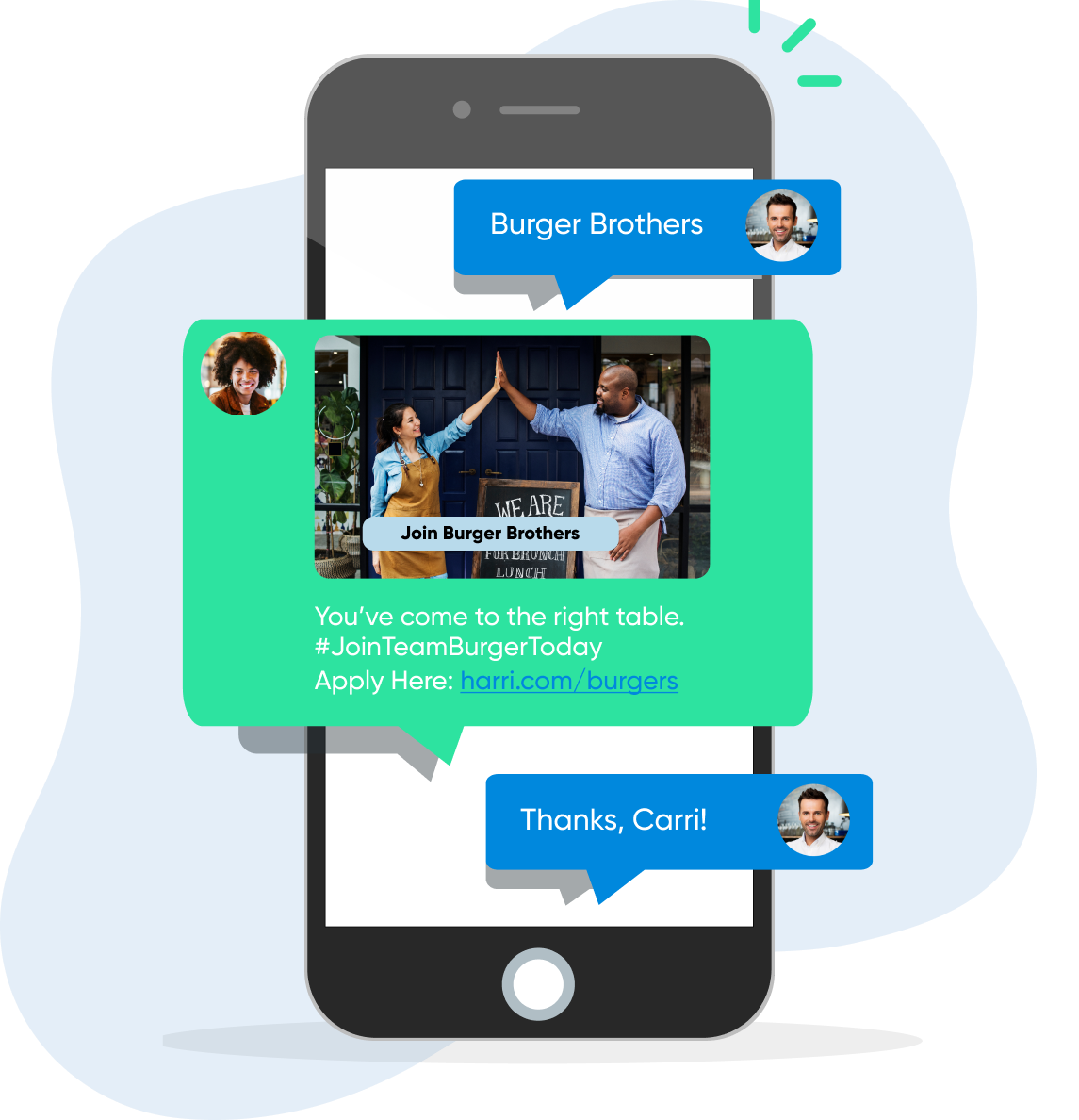 Meet Carri, an AI-driven, conversational ambassador designed to humanize every step in the candidate experience. Carri solves for hospitality's core recruiting problems by turning applications into conversations, at scale, to keep candidates engaged and revolutionize the hiring process.
More than just a chatbot, Carri delivers action-oriented messages and removes the friction of attracting and acquiring talent at any scale.
Enable candidates to text, scan, or message on multiple channels to initiate the application experience.

Manage the end-to-end application and candidate communications lifecycle via SMS, web-based chat on your careers page, Facebook Messenger, and more.

Sequence messaging to streamline the application process and identify the 'right talent' your team should be devoting time to.

Automatically book and update interview times based on candidate and manager availability.

Automate the activities, communications, and helpful reminders that a manager would be responsible for leading up to interviews.