Introducing: Harri Custom Dashboards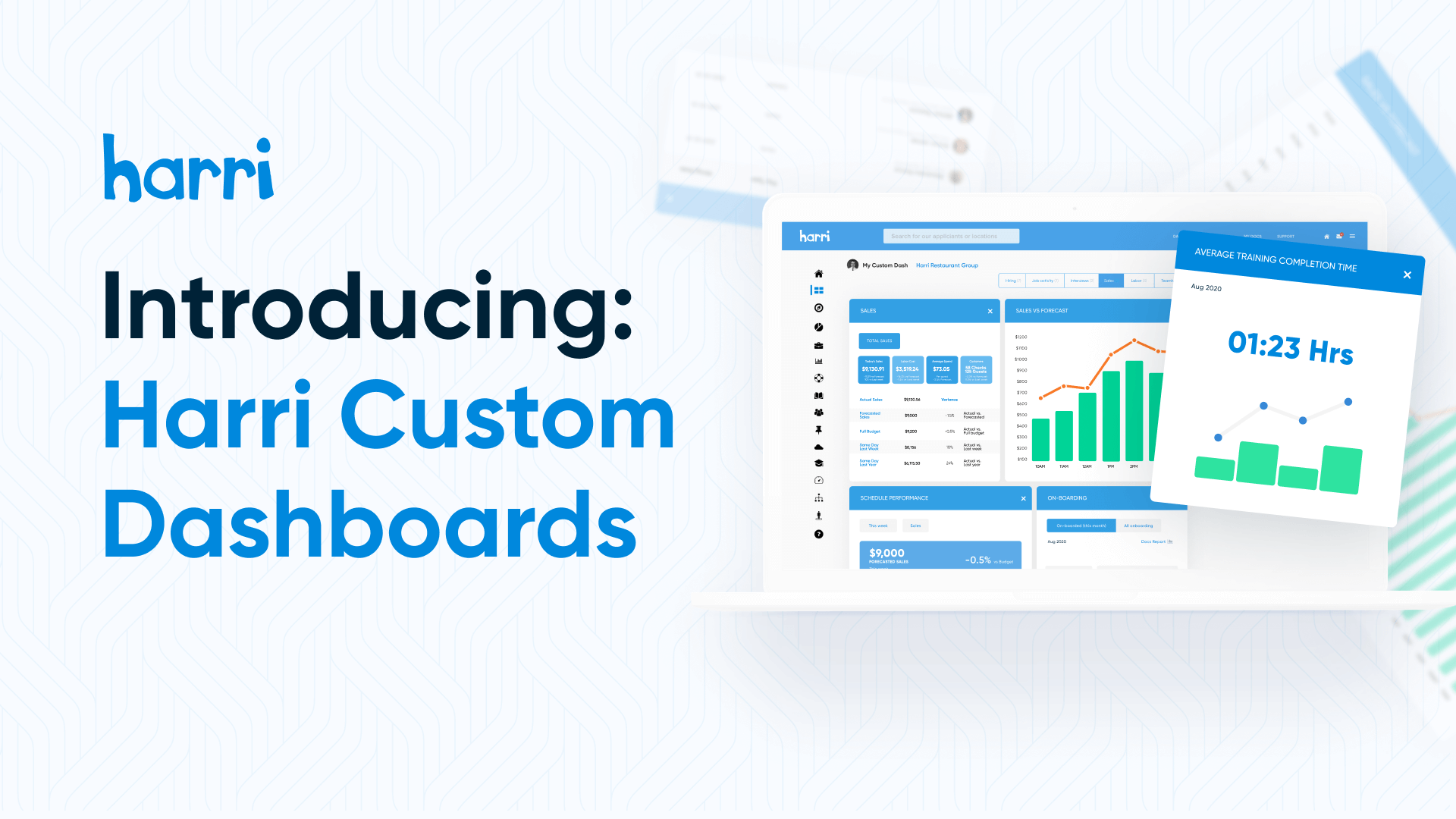 Your data, your way. No two businesses are the same, so we're making your experience as unique as possible. Custom dashboards data visualization tools allow you to represent your business the way you want.
Why does this matter?
This function will allow you to build and access data in a visually compelling, interactive, and actionable way. This provides you with the ability to centralize insights that fit your team's needs in a single view, when and how you need it. 
What can it do?
With our custom dashboards, you are able to utilize drag and drop report widgets to access your saved dashboards in a matter of seconds. You will have the ability to customize your views by department, role, unit, region, and enterprise levels. This solution not only will let you create dashboards, but centralize reporting across your entire business. Data can be sourced from hiring, sales, labor, scheduling, onboarding, time and attendance, compliance, and training environments to maximize visibility. 
Data the way you and your teams need it
It's no secret that service-driven businesses rely on all kinds of data to understand performance and inform decisions. While there's no such thing as too much data, we believe that organization and visualization are key to successfully  'what's happening in the now'. 
Whether you're a unit-level manager viewing day-to-day reports or a functional leader looking at the bigger picture, custom dashboards provide a clean, customizable data-viewing experience that delivers the insights you need.
Customization, simplified.
Harri's custom dashboard can be edited on a user by user basis to build the view you desire. Widgets can be added, organized, and removed to ensure you have access to the most relevant data.
Reports from the following categories are available for use:
Hiring

Job activity

Interview

Sales

Labor

TeamHub

My Team
Once a category is selected, source reports such as active job posting performance, employee scheduling details, time and attendance behaviors, and much more can be dragged and dropped into the dashboard.  Once saved, the dashboard can easily give you the views that best fit your needs and in some instances, grant the ability to action a specific alert. For example, you might see that you have 5 employee requests pending approval. You can open those requests and take appropriate action, all without exiting your custom dashboard.
Multiple departments? Try multi-dashboards
If you wear multiple hats within your company or are gathering high-level data insights for strategic purposes, viewing all of this data at once may seem overwhelming. Filters allow you to show or hide different datasets based on departments or locations defined within your Harri account. 
Filters can be put into place on a widget-level, too. View widget data within your preferred time periods, such as daily, weekly, or monthly, to get a stronger understanding of KPIs over time.
Once saved, our platform will remember your widget filtering preferences, so all of your data will display as expected upon your next sign in. Auto-updates ensure you're constantly up-to-date, but you can always turn those off if you prefer a manual approach. Now that's what we call convenient! 
Multiple brands under one roof? Custom dashboards can be separated by brand for stronger organization while still keeping all valuable data within reach.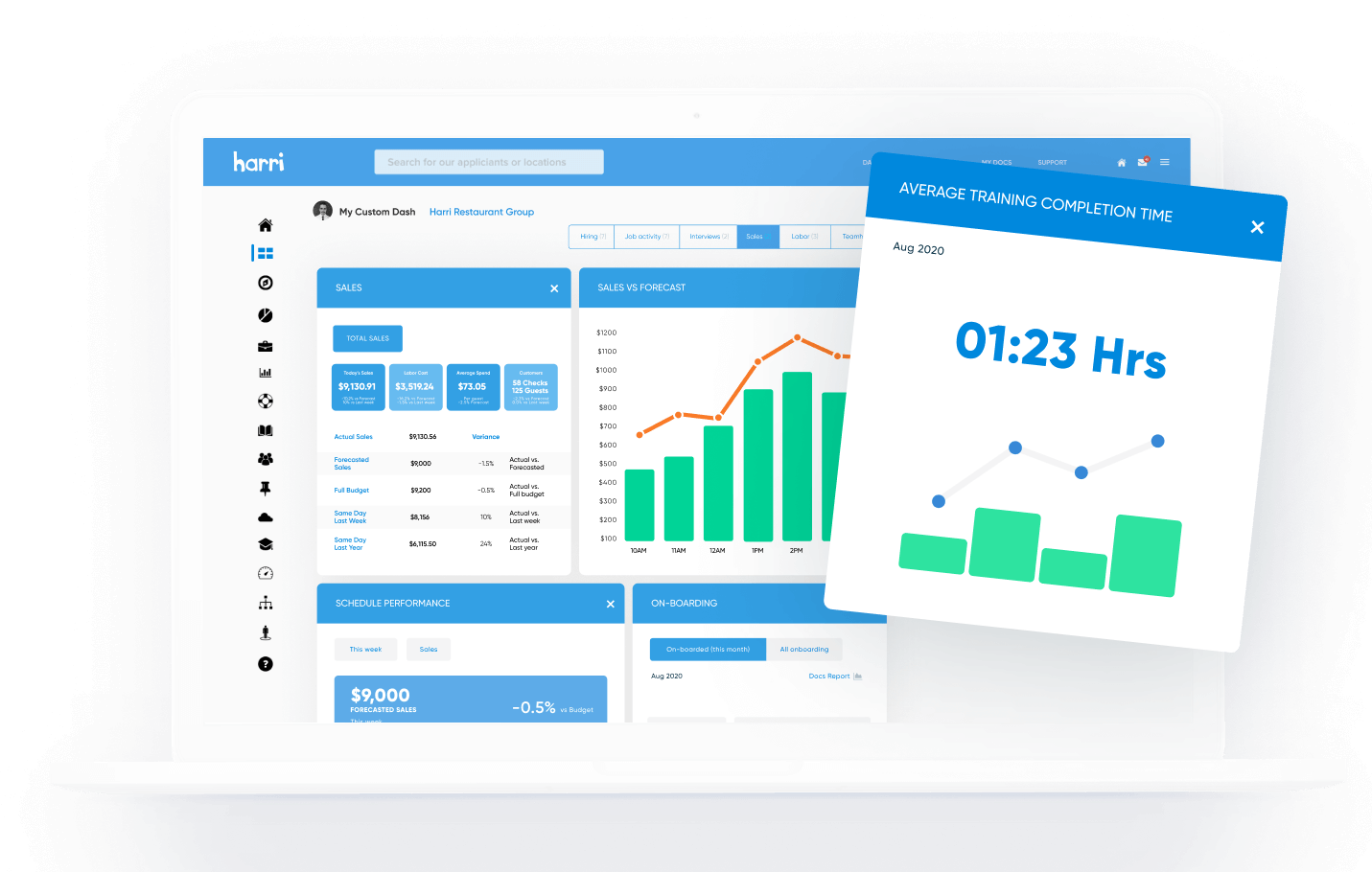 We know that some data might not be for all eyes. That's why employees can only view widgets and data allowed by their user rights, meaning you can effectively silo out sensitive data without hindering anyone in your organization. 
Valuable insights for every department
The sky's the limit when it comes to our custom dashboards. No matter where you stand in your business, our solution provides you the tools you need to make data-driven decisions and unlock your business' potential.
Some of our favorite ways to use custom dashboards are:
Human Resources and Recruiting

: Easily keep track of job interview statuses and next steps across thousands of candidates, as well as time-to-hire metrics.
Financial Professionals

: Understand sales performance by store location or the average overtime hours paid to employees per week.
Operations and Unit-Level Management: Check scheduling performance or view time cards at a glance.
How do I get started with custom dashboards data visualization?
Our custom dashboard feature is available to all Harri clients! Your dashboard may have more or less tabs depending on your subscription, but the dashboard's functionality remains fundamentally the same for all.