5 Must-Haves For Recruiting Frontline Hospitality Workers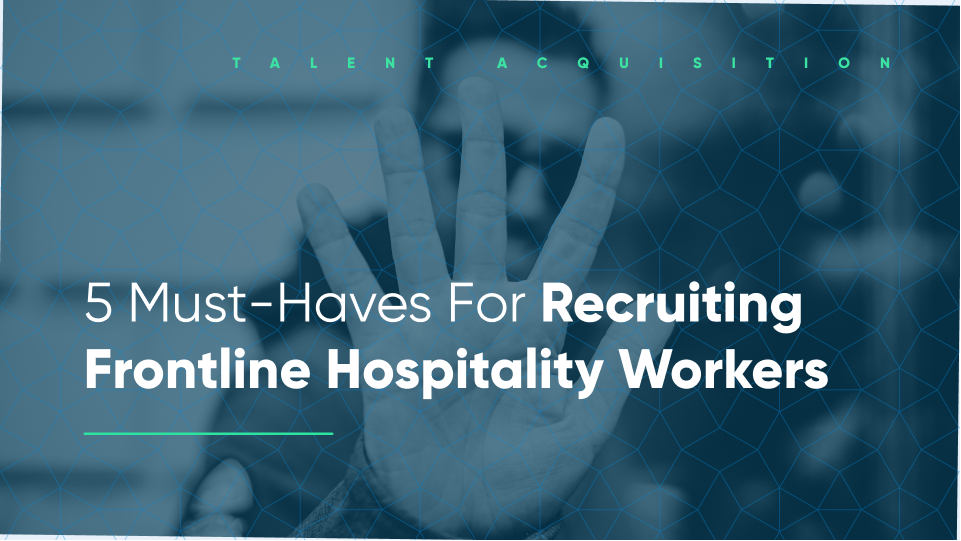 Labor experts predict that hospitality's labor shortage can last up to two years. Hospitality has always been prone to high turnover rates, so this might not come as a complete surprise for long-time restaurant operators.
However, the pre-pandemic labor market meant that brands could easily fill open positions just as quickly as employees left. It wasn't the most cost-efficient solution, but it allowed day-to-day operations to go off without a hitch.
But now, as the labor dynamic shifts, hospitality brands find themselves chasing after creative solutions to attract and retain talent — especially frontline workers. Talent acquisition strategies are trending towards tech-based strategies, allowing operators to do more with less.
Amidst a sea of talent acquisition software, which tools and features are absolute must-haves in hospitality's race for talent? Let's dive in.
Must-have tools to recruit and retain frontline hospitality workers
1. Tools to make your job (and brand!) stand out
Today's employees have different priorities. Some are attracted to the highest paying roles, while others will flock towards workplaces with flexible scheduling, generous break policies, and other progressive benefits.
Just as you would market to your customers, you need to market all of your amazing workplace perks to your candidates. That makes career branding tools a vital asset in any recruiter's toolkit.
What encompasses career branding?
An enticing careers site showcasing everything from fun images to team testimonials

A seamless, fully branding hiring experience 

Transparency into job expectations, workplace culture, growth opportunities, and more
All of this can be accomplished with our career branding tools and guidance from our team of hospitalist specialists.
Level up your career brand and showcase why your workplace is better than the competition, whether it's a rival restaurant or the pizza shop down the street. Reduce turnover by not only attracting more talent, but attracting the right talent.
2. Automate arduous hiring steps
When hiring frontline workers, the end-to-end process should be short and sweet. Candidates expect a process that's low friction and can be completed anywhere, from any device.
At the same time, they also demand high levels of engagement and personalization to maintain an interest in said job opening. When it's a candidate's market, capturing and maintaining their attention is essential.
But how can busy hiring managers speed hiring while also providing real-time candidate engagements? Technology is the obvious answer here, but we're going to dive into the specific benefits of conversational AI.
So much more sophisticated than robotic chatbots, conversational AI can level up the hiring process by providing personalized and fully branded candidate engagements. These engagements happen in real-time throughout the entire hiring process without requiring extensive manual work from your team.
Process applications, screen candidates, coordinate interviews, accept assessments and files, answer questions, and more. Conversational AI can handle a number of essential hiring responsibilities, leaving hiring managers to dedicate their precious time to the highest quality candidates.
We developed Carri, an AI-powered conversational ambassador, to revolutionize the hiring experience for managers and candidates alike.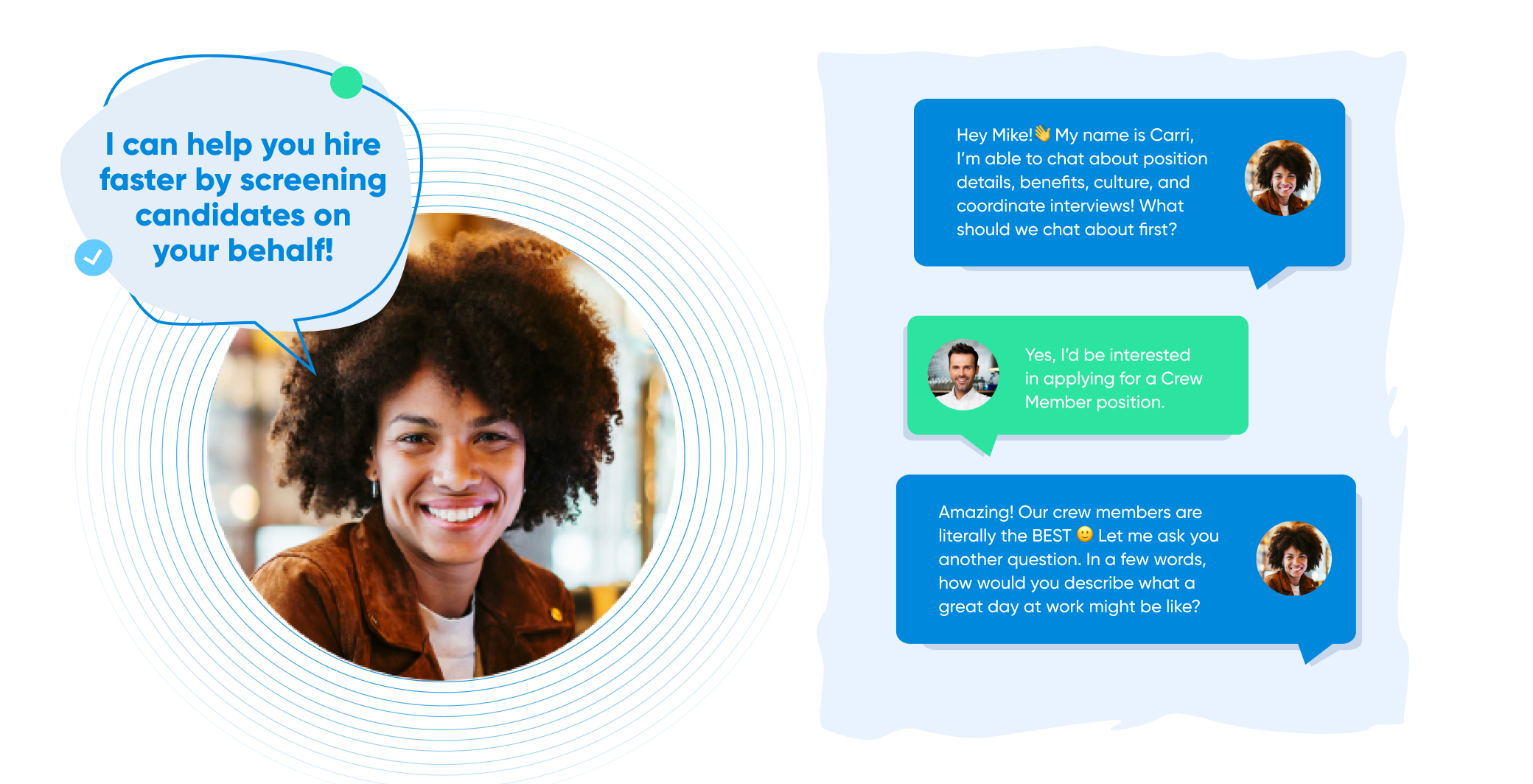 But we know that not all parts of the hospitality hiring process should be automated, which is why Carri will notify hiring managers if and when their assistance is needed — such as when a candidate asks a highly specific question. 
And unlike other chatbots or conversational AI tools, Carri fully supports mobile conversations (on top of livechat, Facebook Messenger, WhatsApp, and so much more) to bring the conversation to your candidates.
Imagine this: you oversee HR across 3 different locations under the same brand. Locations 1, 2, and 3, all need to hire 1 waiter and 1 bartender. Location 1 also needs to hire a line cook.
You go about posting all 7 of those job posts on different job boards, like your company website, Indeed, or even via the Harri Jobseeker app. As time goes on, you check each individual job board for candidates, update their information in your ATS, then close out job locations across each job board as positions get filled.
Sounds like a lot of manual work, right? The more manual tasks you subject your managers to, the more likely you are to let candidates slip through the cracks.
Luckily, a smarter job posting tool can eliminate these challenges while also improving speed-to-hire.
Our multi-channel job posting platform can streamline the process of creating, updating, closing, and re-opening openings across multiple job boards into one centralized app.  Simply create a job post (or use one of our templates!), check off the sites that you'd like to distribute, select which location and brand the jobs apply to, and you're ready to kick off your hiring efforts. Promote posts and adjust job spend right from Harri, then easily close out relevant jobs all from a single login.
No matter how many job boards you integrate with, they all flow back into the same ATS to ensure accuracy and transparency no matter how many positions your team is hiring for.
4. Hiring compliance tools
There's a number of compliance factors to keep track of when hiring frontline hospitality workers that extend beyond the recruitment process.
Is the employee a minor and are their working papers up to date? Do back of house hires have the latest food and safety certifications? Is that bartender certified to serve alcohol?
Some brands may need to perform safety-related background checks or ensure a new hire is compliant with vaccination requirements.
No matter the role, there's a long list of permissions and certifications to keep track of both during the hiring process and throughout the entire employee lifecycle.
It's far too much to keep track of manually, especially when managing hundreds of employees. Automation is the only way to ensure efficiency, which is why we include built-in compliance tools into our Talent Acquisition Suite.
Get answers to all of the above questions and more with custom background screening, all before a candidate's first day on the job. Day one success is everything, after all.
And because Harri boasts an end-to-end HCM platform, that compliance data is automatically carried over into the post-hire environment. If a certification is near expiration, managers will be notified ahead of time so the proper training and processes can be implemented to ensure full foodservice compliance at all times.
Onboarding is the critical moment that transitions the candidate experience into the employee experience. When managers do a great job onboarding incoming team members, those new hires benefit from greater role transparency, more efficient learning, and stronger communication.
In short, the better the onboarding experience, the more likely you are to retain those employees that you worked so hard to hire. That includes everything from on-the-job training and company introductions to state-mandated safety courses.
Our digital onboarding platform creates an organized, engaging, and easily accessible onboarding experience for new hires at scale.
Give employees the ability to view work documents and existing training materials anytime, from any device. Deliver engaging and fully branded training experiences that transform the way new hires learn and grow. Ensure that all team members are set up for success even before their first day on the job.
Onboarding can make the difference between a good employee experience and a great one. By delivering an easy-to-use and lovable onboarding process, your brand can take strides in improving team retention.
It's clear that brands that take a tech-driven approach to talent acquisition will win the race for talent. Not only does it provide a seamless and highly personable candidate experience, but it also eases the administrative burdens facing hiring managers. And trust us, there's a lot of logistical challenges associated with manual work.
From first touch to first day, we have you covered. Our Talent Acquisition Suite provides a fully integrated, end-to-end solution that focuses on both talent attraction and long-term retention.
Check out our full Best Practices in Recruiting guide here, or dive into our hospitality-specific Talent Acquisition Suite below.