Complying with California Right to Rest and Meal Break Laws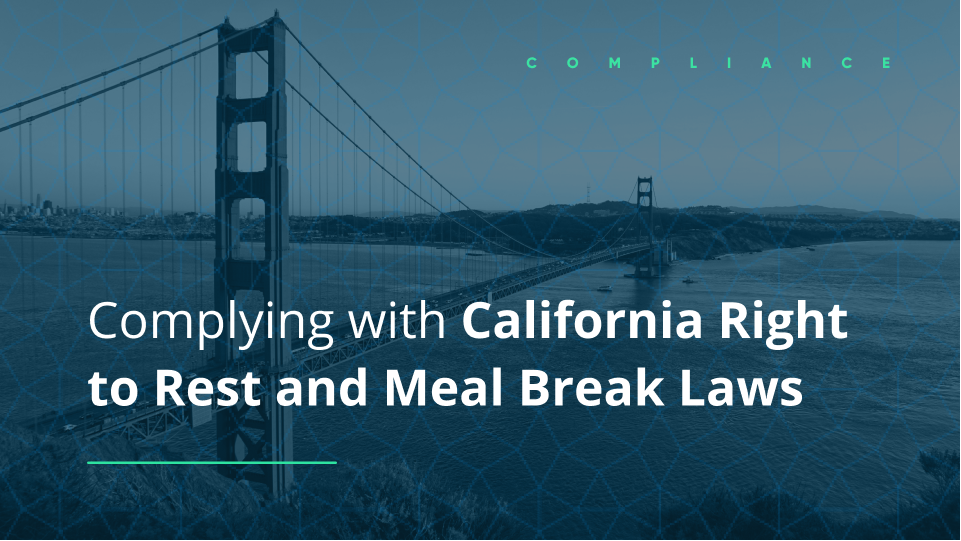 2021 has brought new challenges and opportunities for hospitality operators across the US, especially for those located in California. Labor compliance has become exceedingly difficult to manage, both from an operational perspective and when you take wage creep into consideration.
Yet the compliance requirements continue to grow and little is done to help these operators understand the changes.
For multi-unit operators, tracking the various elements of labor compliance across all teams of hourly workers can be an incredibly difficult task.
Most California labor laws fall under the Fair Scheduling Act, also known as Fair Workweek. The  Fair Scheduling Act is a wage and labor ordinance designed to provide hourly hospitality workers with predictable, stable schedules.
That includes right to rest periods and meal breaks, which are contingent on an employee's shift hours.
While breaks are critical to an employee's physical and emotional well-being, planning for breaks in an industry as fast-paced as hospitality will almost always prove challenging.
You never know when an unexpected rush of customers will come in and what services they'll need most. A great team member may be inclined to skip their break and help team members during said rush, but that act of goodwill can open your brand up to serious labor law violation liabilities.
Compliance premium payments
It's important to note that the California Supreme Court recently declared that employers must pay employees overtime for premiums related to meal breaks and right to rest periods.
That means every time an employee is denied a meal break or a right to rest period, they must be compensated an additional hour at an overtime pay rate.
How can a manager keep track of it all to not only stay compliant, but also ensure labor efficiency? Let's start by covering what these laws mean and what their requirements are.
Frontline employees are entitled to different types of breaks depending on the length of their shift.
Every 4 hours worked:

10-minute paid break

Every 5 hours worked:

30-minute unpaid break
So, if an employee reaches their 10th hour on a shift, they are entitled to two 10-minute paid breaks and one 30-minute break (unpaid). 
If that employee's shift surpasses their 10th hour, they're entitled to three 10-minute paid breaks and two 30-minute unpaid breaks.
What is considered a meal break?
During a meal break, employees are permitted to attend to personal business or leave the premises. 
What are break waivers?
If an employee's shift is 6 hours long, they may choose to waive their meal break. 
If their shift is longer than 6 hours, they may not waive the meal break. 
If the employer does not give the employee their meal break, they are required to pay an additional hour at the employee's regular hourly rate.
California right to rest periods
Under Fair Workweek, California hospitality employees are entitled to right to rest periods, or extended breaks in between two shifts. This is to discourage employers from scheduling "clopening" shifts, also known as "close-to-open" shifts.
California employers must give employees 8 hours of rest in between work shifts.
However, employers operating in Emeryville, California must provide employees with 11 hours of rest between work shifts.
Under the Biden administration, labor laws are moving almost as quickly as the hospitality industry itself. 
Managers are busy enough with day-to-day operations that they scarcely have time to become legal experts on top of it all. But hospitality brands should never leave themselves open to chance. After all, non-compliance fees are as messy as they are expensive.
The solution? A smarter labor management solution that takes the hassle out of compliance, all while minimizing operational disruption. 
Say hello to our California compliance platform.
Built to handle wage and labor laws as nuanced as Fair Workweek, we tackle compliance at the federal and local levels so your team can focus on doing what they do best: cook up an amazing guest experience.
You're never alone with our compliant scheduling platform. We built California-specific break compliance right into our scheduling software to ensure all team members are assigned their required paid and unpaid breaks while also mitigating clopening shifts.
But what really makes our scheduling solution shine is its ability to improve labor efficiency. 
Demand forecasting using everything from historic sales data to employee skills helps managers better determine which employees to schedule, when. All while remaining in full compliance with California labor laws.
Real-time labor costs are generated during the scheduling building process, including compliance-related premium payments, so managers can stay within their approved labor spend range.
Self-service break waivers
Employees can use the Harri timeclock to voluntarily opt into and out of meal breaks as many times as necessary throughout the day. An employee-requested break waive can save you money in premium payments, so long as the employee willingly waived their break.
Giving employees the autonomy to waive their own breaks also prevents managers from forgetting to factor break changes into the employee schedule, ensuring peace of mind during even the most hectic workdays.
Even the savviest manager is prone to making compliance errors, especially those meaning dozens of employees across multiple locations. That's why we include non-compliance alerts into everything from scheduling to time and attendance.
Receive warnings before publishing and editing schedules, such as if an employee's shift will incur premium payments or if additional breaks need to be included.
Did an employee clock in early or clock out late? Get off-shift alerts so managers can verify if an employee should be working extra hours, then coordinate California-required breaks accordingly.
Automatic break and premium payments
There may be times where you will need to distribute premium payments to employees, such as if a team member decides to waive their meal break. In these situations, you absolutely do not want to forget to issue employees their premium payment or entitled overtime hours.
But we all know that it can be easy to let this information slip when you're caught in the rush of the day-to-day. "I'll clock that in later" quickly turns into a forgotten task if not written down, and the consequences can result in serious non-compliance fees.
We integrate payroll into the timeclock to ensure these mistakes never happen. Employees will automatically be paid out in accordance with their schedule, factoring in everything from waived breaks to extra hours that translate into overtime.
Managers will be notified to review these records before payday to ensure accuracy. 
Ready to learn more about our hospitality-driven California compliance tools?