Amid Layoff Crisis, Harri Responds with Messaging Platform to Support Displaced Employees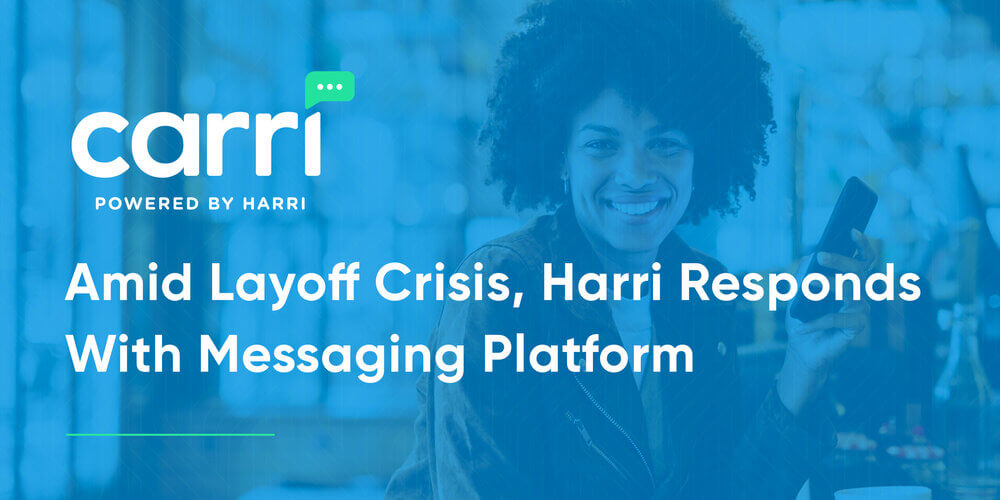 Harri, a end-to-end workforce management software platform serving 20,000 restaurant and hotel locations that represent over 3 million hospitality employees, launches Carri, the first personalized employee communications platform that enables businesses to directly engage their displaced team members. Positioned as a response system, Carri acts as a conduit between an organization and both their active and laid-off team members, offering information and assistance throughout this challenging time.
Carri is an AI-powered, agile communication framework capable of delivering personalized SMS messages answering employee's most pressing questions, broadcasting employee communications and maintaining a connection with team members ahead of eventual return. Businesses can leverage pre-built FAQs, centralize and respond to unique questions and ensure that meaningful engagement can take place.
"It's painful to witness the unrelenting rise in layoffs across our industry. We quickly identified that a major risk to employers is an inability to re-start their businesses due to permanent displacement of their employees over the weeks and months ahead" said Luke Fryer, Founder and CEO of Harri. 
"Carri provides a digital lifeline between employers and displaced team members to help reduce permanent displacement and industry abandonment. Simply put, you can't reopen the doors if there is no one standing behind them to operate the business. It's all about keeping talented employees close to make the re-building phase easier for all."
The Carri platform, delivers multiple first-to-market solutions to communicate and engage team members during this challenging time:
Ability to engage team members with pre-built FAQs

Centralize and respond to unique questions and commentary

Seamlessly broadcast messages

Track meaningful engagement
"We've worked tirelessly to support the industry in ways that put recovery within reach via our HospitalityUnite campaign efforts. I'm pleased to announce that Carri is now actively part of that initiative and available to all businesses, free of charge" Fryer said. 
Lou Sposato, Sr. Director of Human Resources from First Watch Restaurants was one of the first to adopt this unique offering: 
"During these unprecedented times, our concern remains with our furloughed team members.   All of our restaurants are restricted from providing dine in experiences and have been forced to close as a result. While we wait for the outcome of this uncertain period, we remain committed to the future together and look forward to the time when we resume normal operations and continue the growth of First Watch, with our valued team members.  Until that time, it is our goal to remain connected and Carri has been an invaluable technology for us to achieve that goal. At First Watch we take pride in being innovative and staying ahead of trends, Harri has provided us with the perfect technology for preferred and engaging communication. As we navigate through these uncharted waters, our partnership has been a beacon guiding us toward a much anticipated return to "normal business."