Complete Guide: The Fair Workweek Ordinance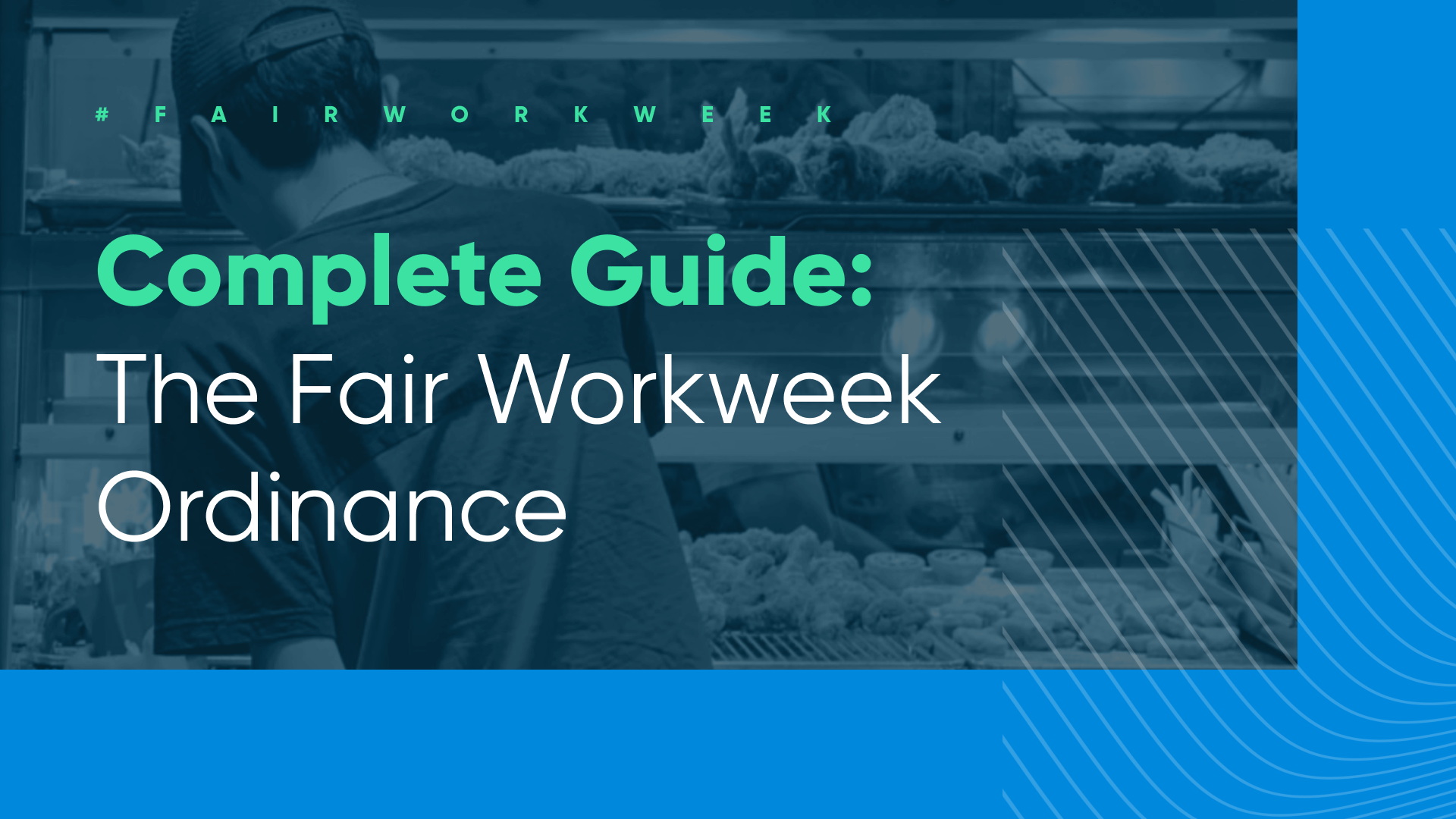 We all need a workweek we can count on and in hospitality, this has been challenging. The Fair Workweek Ordinance, which has been in effect in the state of Oregon and the city of Seattle for some time, will be implemented in several more cities in July 2020. One of the major concerns was the vague language and a lack of guidance on how to comply. Now, employers are tasked with navigating the global health crisis and implementing changes to the structure. While these changes are for the better, they can still be difficult to follow properly, especially if you do not have the most updated information. This complete guide will thoroughly explain what the Fair Workweek ordinances means, a breakdown by cities putting it into practice, and the Harri solution.
Have Fair Workweek laws recently changed because of the pandemic?
Fair Workweek Ordinances apply to those in: the building services, healthcare, hotel, manufacturing, restaurant, retail, and warehouse industries. It requires covered employers to provide advance notice of work schedules to their covered employees. Additional wages are required if the schedules are changed within a certain time frame.
What constitutes a covered employer or employee?
Employers are considered 'covered' based on the amount of employees they have and amount of locations worldwide. For instance, in Chicago a covered employer is someone who has over 100 employees (250 or more in non-profit businesses) and 50 of those employees are covered. The following types of employees are considered covered under the Fair Workweek Ordinance:
Employees who are entitled to overtime pay under State or Federal laws

Employees who work in the direct provision of retail, food or hospitality services (including floor managers who oversee such services)

Employees engaged in completing sales, such as a delivery driver

Persons involved in security at a retail, food, or hospitality location (work has to involve occasional customer contact)

Persons involved in maintenance at a retail, food, or hospitality location (work has to involve occasional response to customer requests)

Pharmacy and/or medical staff at a retail, food, or hospitality location

Hotel, restaurant, or other retail front desk or front-of-house employes who greet and/or provide service to customers
What does the Fair Workweek Ordinance actually say?
The Fair Workweek Ordinance is a wide piece of legislation that has implications for retail, hospitality, and food service employees that fall under the requirements. It is currently estimated that over 1.8 million employees are expected to be impacted by Fair Workweek's requirements. As an employer, you are encouraged to consult with your own legal counsel to determine the appropriate procedures and policies to properly comply with the Ordinance.
This new Ordinance has two particularly important components. First, it exempts employers from paying predictability pay when there is a schedule change because of "war, civil unrest, strikes, threats to public safety, or pandemics". As we are in the midst of a global pandemic, this is a complication. It is unclear at the present moment if an exemption will be applied. 
Second, the Ordinance states that employers are not required to complete predictability pay when a work schedule change is "mutually agreed" upon by the employer and employee, or in the event a covered employee requests a shift change that is confirmed in writing. This is an important distinction that must be made. If this information is not in writing or gets miscommunicated, it could mean a hefty fine.
In response to the Ordinance, front-line managers and payroll personnel must be trained by employers to comply with new scheduling policies and requirements. Employers also should be getting into the habit of seeking employee agreement to shift modifications as much as possible. This is more favorable to requiring employees to work atypical shifts. It is also important to put in writing the agreed-upon shift changes made after the work schedule has been posted and have the employee sign it. When the Ordinance first comes into effect, employers will be required to give employees 10 days notice of their schedules. This will increase to 14 days by 2022.
Employees will also hold the right to decline to work previously unscheduled hours or be paid for an additional hour of work if their schedule changes within the 10 days. They will also have the right to decline to take a new shift less than 10 hours after the end of their previous shift.
What is a good faith estimate?
A good faith estimate is provided at the time of hire by a covered employer and entails an estimate of what the employee's work schedule will be. As much as it tries, sometimes this estimate is not perfect. The requirements for this are as follows:
An employee's work schedule has to be posted no later than 10 days before the start of a new schedule.

A written notice of the work schedule must be in an accessible and clear location where the rest of the employee notices are posted. Electronic postings of the schedule should also be posted in locations typically viewed by employees.

The posted work schedule must include all employees' shifts, whether they are scheduled to work (or be on call) that week or not.
What is predictability pay?
Under this Ordinance, an employee's regular rate of pay is calculated based on whether the employee is tipped. This distinction is made by employees who are typically tipped more than $50 per month and those who are not. 'Predictability pay' is a way for employees to cover themselves in the event of a loss of hours. Employers are required to pay one hour of predictability pay any time they add to a work shift or change the date/time/location of a shift, with no loss of hours. The exceptions to this are:
If an employee makes a written request to change his or her schedule.

An employee voluntarily works additional hours due to another employee's inability to work. This has to be in response to a written communication offering the hours that makes it clear that the employee accepting hours is doing so voluntarily.

Any other voluntary trades in shifts.
What does this mean for hiring new employees?
As reopenings occur, there will be a need to hire new employees and comply with the Fair Workweek Ordinance. The rhetoric on this is that employers are required to offer additional hours to existing employees before hiring new employees. This action protects employees who are already employed at your establishment and ensures that the person you hire will be able to work enough hours to make ends meet.
How does this vary city-by-city?
Sections of the Ordinance will vary on a state-by-state and sometimes even  city-by-city basis. For instance, a "covered employer" in Philadelphia is an employer in the retail, hospitality, or food service industry that employs 250 (regardless of where the employees perform work) or more employees and has at least 30 locations worldwide. Read more about specific Fair Workweek Ordinance requirements in this article.
'Predictive scheduling laws', as they are more commonly referred to in California, includes "Formula Retail Establishment" chains with more than 40 locations worldwide. This includes bars, restaurants, take-out shops, and has more than 20 employees in the city. Shifts have to be planned 14 days in advance and clearly reported as to not accrue costly fines. Read more about specific Fair Workweek Ordinance requirements in this article.
In New York City, fast food and retail employers must provide their employees with 14 days notice of changes to their schedules. Premium pay in this city would occur when: an employee covers the shift of a sick coworker, the business remains open for delivery or takeout and staff is asked to work different shifts and/or additional hours (in response to COVID-19), and when their place of work cancels a scheduled shift or reduced hours due to a decrease in business. Read more about Fair Workweek in New York City here.
In Chicago, the Fair Workweek Ordinance includes: a good faith estimate, right to rest, advance notice on scheduling, and predictability pay. The Ordinance goes into effect July 1st, 2020, despite the health crisis. Read more about Fair Workweek in Chicago here.
The 'secure scheduling Ordinance' in Seattle covers retail and food services establishments with 500 or more employees worldwide. Full service restaurants must have more than 40 full-service locations worldwide. This Ordinance went into effect in 2017. The city of Seattle requires employees to be paid time and a half when working shifts less than 10 hours apart. Read more about Fair Workweek in Seattle here.
Harri's Fair Workweek solution
As the shifts in the regulations for Fair Workweek come up, it can be difficult to navigate how to implement these changes into your routine. Harri, as part of our scheduling solution, has created a Fair Workweek component for the areas that require this. This is one of the only solutions on the market to keep up with the requirements and do it automatically. Mistakes are dangerous, especially with fines up to $1,000 a day for not complying. Our service is designed to empower your teams with the ability to manage schedules, monitor scheduling fees, and properly report premium pay.
When looking for a Fair Workweek software to implement, consider these 5 must-haves:
You are going to want a software that allows you to distribute, manage, and complete good faith estimate documentation with employees throughout the pre and post hire process.
An effective software should build schedules that utilize data, demand forecasting, and activity-based intelligence to assess the precise amount of labor needed weeks in advance. This keeps employees from feeling in the dark about their schedule and have more flexibility in their day-to-day lives.
It is imperative that you are alerted in real-time about schedule changes and time-off requests. This means the requests get processed as quickly as possible, and you are complying with the requirements of Fair Workweek considerations and tracking.
You will be notified when publishing changes to a schedule that will result in premium pay entitlements. A good software should create accountability and alert you when potential issues arise.
The ability to view and audit detailed reports on all the premium payments that resulted from scheduling changes is crucial. 
Fair Workweek regulations can seem intimidating, but with the proper tools, it is very doable. Our software can help eliminate risk, empower employees, and make this transition easier. This is a difficult time for hospitality business owners, so let Harri ease some of the burden. Less stressed management and happier employees ultimately boost your business's productivity.