Here's What You Need to Know About Philadelphia Fair Workweek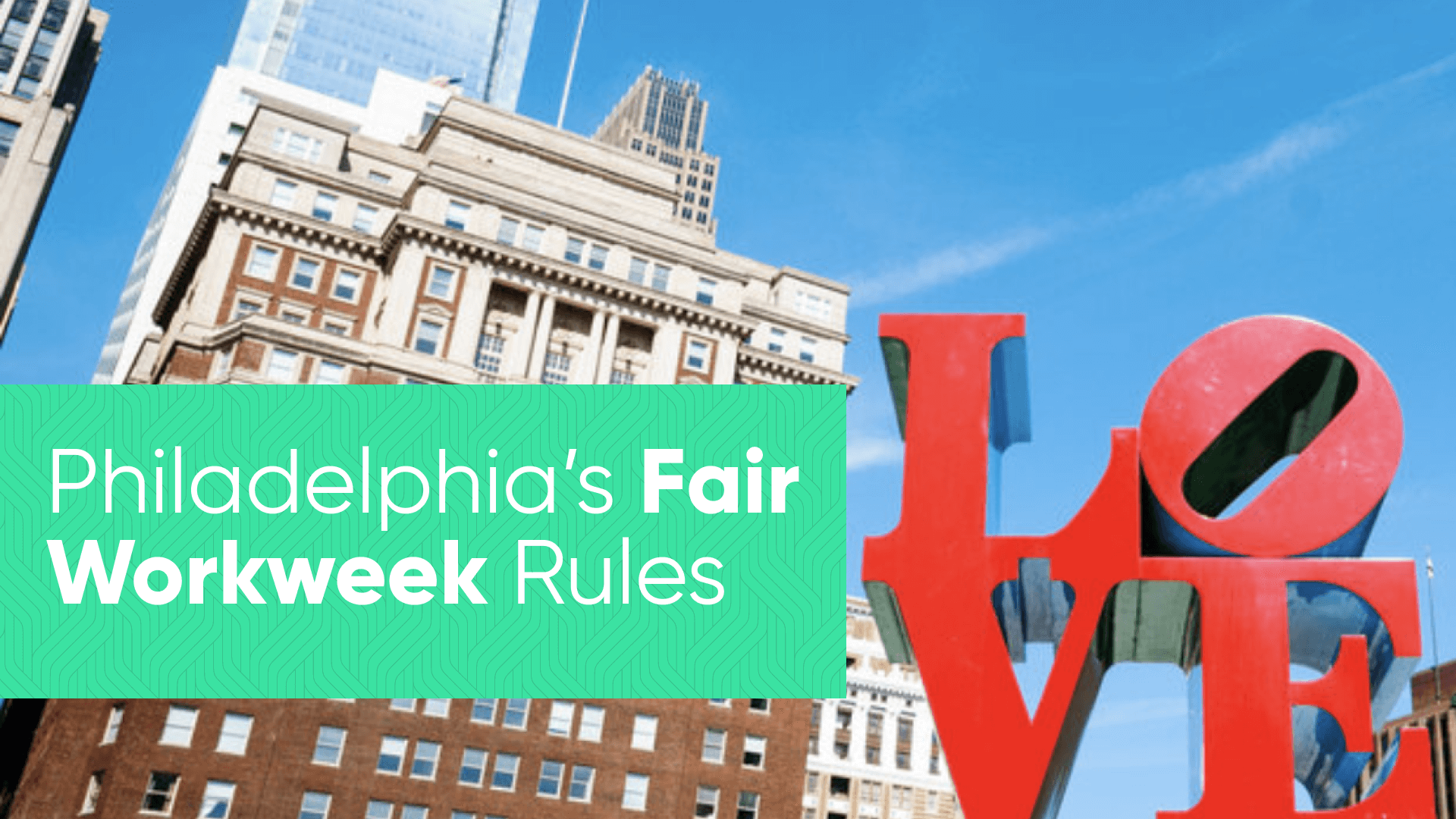 Philadelphia Fair Workweek came into play in January 2020 with the intention of creating a stable, predictable work environment for service-based employees.
While Fair Workweek is a noble endeavor, it presents a significant challenge for hospitality businesses. Labor laws are complex to begin with, and scheduling is never easy. Add a new layer of rules and fines into the mix and it creates a very difficult compliance situation for restaurants — especially those operating across multiple cities and states.
Non-compliance can result in huge legal fees, with one business owner required to pay over $660,000 to settle a non-compliance case as a result of failing to provide overtime pay and for failing to keep proper records. Some businesses attempt to hire finance teams to budget for these potential scenarios, but this approach only deals with the symptoms rather than the cause. 
Let's take a look at the rules and penalties for Philadelphia Fair Workweek, as well as how Harri ensures carefree compliance for labor-efficient operations.
What businesses are required to follow Philadelphia Fair Workweek?
Philadelphia Fair Workweek covers a wide range of businesses. Any retail, foodservice, or hospitality business with 250+ employees and 30+ locations worldwide must adhere to Fair Workweek requirements. 
This includes franchise locations, chains, and temporary employees hired through an agency.
Philadelphia Fair Workweek requirements
The rules for Philadelphia fall into the same categories as other predictive scheduling laws across the nation, but the devil is in the details. All eligible businesses must follow the below requirements to remain in full compliance with Philadelphia Fair Workweek.
Employers must provide new hires with a written Good Faith Estimate of their work schedule over a 90-day period. 
A Good Faith Estimate should include:
The median number of hours the employee is expected to work each workweek. 

Whether the employee is expected to work on-call or not.

The days of the week the employee can expect to work

Which days they can expect to have off.
If an employee's schedule experiences significant changes over time, the employer is expected to redistribute an updated Good Faith Estimate. A significant change typically includes any and all schedule changes that occur 6 workweeks over a 12 workweek period.
Right to Rest scheduling periods
Right to Rest rules are in place to prevent employers from scheduling "clopenings." The aim is to allow workers to have enough rest time between shifts. 
Employees must be given a 9-hour rest period between two work shifts. This includes shifts that span 2 days, such as a graveyard shift.
If an employee is scheduled two shifts without a 9-hour rest period, they must be paid a $40 premium payment. Employees also have the right to decline these shifts with no consequences.
Advanced notice scheduling
To protect shift workers from last-minute schedule changes, Philadelphia Fair Workweek requires employees to post all work schedules 14 days in advance.
An employee has the right to decline any hours or additional shifts that are not included in this posted work schedule. If they choose to work these hours, they must provide written consent and be paid a premium to compensate — more on this below.
Schedule changes and premium payments
Under Philadelphia Fair Workweek, employers must provide notice of any proposed changes to the schedule as soon as possible and before the change takes effect. 
They must revise the written work schedule to include changes within 24 hours.
Last-minute schedule changes
Schedule changes made after the 14-day advanced notice window are subject to predictability pay.
If the employer adds time or changes the date, time or location of a work shift, under the following conditions, they are liable for the corresponding penalties:
No change in the number of hours:
Pay one hour at the employee's regular rate of pay.
Add hours to the schedule: 
Pay one hour at the employee's regular rate of pay.
Subtract hours from the schedule:
Pay half the regular rate of pay for the hours subtracted.
Cancel a shift:
Pay half the regular rate of pay for the hours that were lost.
Access to hours for existing employees
Philadelphia Fair Workweek states that, when a work shift opens up, employers must offer those hours to existing employees before hiring new staff or outside contractors. 
Available work shifts must be communicated via written notice at least 72 hours in advance unless the nature of that work dictates a shorter time period.
These notices must:
Include shift length, start and end times, work description, and qualification requirements

Be posted in English

and

the primary language of employees in the workplace

Be accessible and visible to all employees, including electronic publishing 
If a scheduled on-call shift is canceled, the employer must pay affected employees half the rate of their regular hourly pay for and scheduled hours lost.
Exceptions to Philadelphia Fair Workweek
The employer is not subject to Philadelphia Fair Workweek penalties under the following conditions:
An employee requests a shift change by written communication. This includes PTO, sick leave, and voluntary schedule changes

An employee volunteers to work additional hours

An employee begins or ends work twenty minutes before or after the scheduled start or end time of the shift

Employee hours are subtracted due to disciplinary reasons (must be documented in writing)

Scheduled hours are removed as a result of termination of employment

Schedule changes are made within 24 hours of the end of the advanced notice period

A schedule change is the result of a shift swap between employees

Working operations cannot begin or continue due to a failure of utility, threats to property and team's safety, natural disasters, a declaration of a state of emergency, etc
Events also have their own specific exceptions:
A ticketed event is canceled, rescheduled, delayed, increases occupancy by 20% or more, or increases in duration after posted on the work schedule due to circumstances outside the employer's control

A hotel banquet event is rescheduled after posted on the work schedule due to circumstances outside the employer's control
Stay compliant with Philadelphia Fair Workweek
Hospitality operators that utilize workforce technology can save time and money in compliance prevention, auditing, and reporting. Harri's all-in-one HCM platform was built for the specific nuances of the hospitality industry, including Philadelphia-specific Fair Workweek requirements. 
Fair Workweek-compliant scheduling made easy for Philadelphia restaurants
Implementing predictive scheduling transforms compliance headaches into positive steps forward for labor-efficient business operations. Harri's intelligent scheduling ensures Fair Workweek compliance with automated, location-based compliance rules. 
As managers generate schedules, compliance safeguards are built-in based on the specific labor requirements in your jurisdiction, such as break requirements or right to rest periods. Labor costs, including Fair Workweek-related premium payments, are generated in real-time during the schedule building process to ensure full transparency into labor spend. 
Employee-to-employee shift swaps can be used to fill labor gaps before they become an issue, such as if an employee needs to call in sick. Employees request a shift swap and managers simply accept or deny the request in the Harri app. 
Here's how the shift swap process works:
When an employee is unable to work a shift, they release the shift

Other employees have indicated they wish to work on that day should a shift become available — they are not considered on-call

Harri automatically alerts these employees via SMS and push notification

The first employee to accept is assigned to the shift

The manager on duty is notified and given the employee's estimated arrival time and distance from work
Not only does this free up your manager's time by eliminating the need for chasing down employees during a swap request, but it also ensures no premium payments are incurring by shifting responsibility to employees.
Alerts for non-compliant scheduling actions
No two days in hospitality are the same, and it's inevitable that you'll need to make last-minute call-ins or shift cancellations — both of which result in premium payments. 
Managing these one-off might sound easy, but when your managers (who already have so much on their plates) are overseeing fifty or more employees, it's easy to lose track of labor law requirements and associated violations. 
Harri proactively alerts your team of non-compliant actions to prevent premium payments wherever possible. 
If enough team members aren't available to work, managers may mistakenly schedule an employee to work a double shift without a 9-hour rest period. Maybe they prepared a schedule within the advanced notice period but forgot to post it.
Harri sends notifications on upcoming and ongoing changes that are not compliant with Fair Workweek to prevent avoidable fines and empower teams to decide when premium payments are truly necessary.
Easy Good Faith Estimates
Harri takes the pain out of creating Good Faith Estimates required by Fair Workweek.
The Good Faith Estimate document is automatically generated during onboarding, providing new hires with a clear schedule in accordance with the local laws. It is distributed via the same system so it can be reviewed by the new hire, e-signed, and returned digitally. 
And if an employee's schedule experiences significant change, Harri will automatically notify managers to update and redistribute Good Faith Estimates in order to remain in compliance.
Fair Workweek compliance reporting
An all-in-one HCM platform can provide real-time insights into employee shifts, hours worked, and labor costs. But Fair Workweek reporting dives much deeper than that. 
With Harri, employers can view detailed premium payment information such as employees affected, payment amount, the employee's work location, and what manager approved the non-compliant action that resulted in a premium payment.
Viewing this information at a glance allows your team to get a stronger understanding of compliance spend and adjust labor or schedule policies accordingly. It also can be a lifesaver during a Fair Workweek compliance audit, in which you'll need to provide written or digital proof of employee shift information and related premium payments.
Maintain compliance with Philadelphia Fair Workweek
Harri's tools are an efficient and cost-saving solution to the problems that Philadelphia Fair Workweek poses to your business. 
By empowering your teams to proactively take control of predictive scheduling, you'll see improved scheduling efficiency, increased flexibility, and stronger employee protection — all of which result in operational excellence and improved retention rates.
Get in touch with our team to see how easy it is to implement Harri's Fair Workweek-compliant scheduling tools.