Complying with NYC Fair Workweek Laws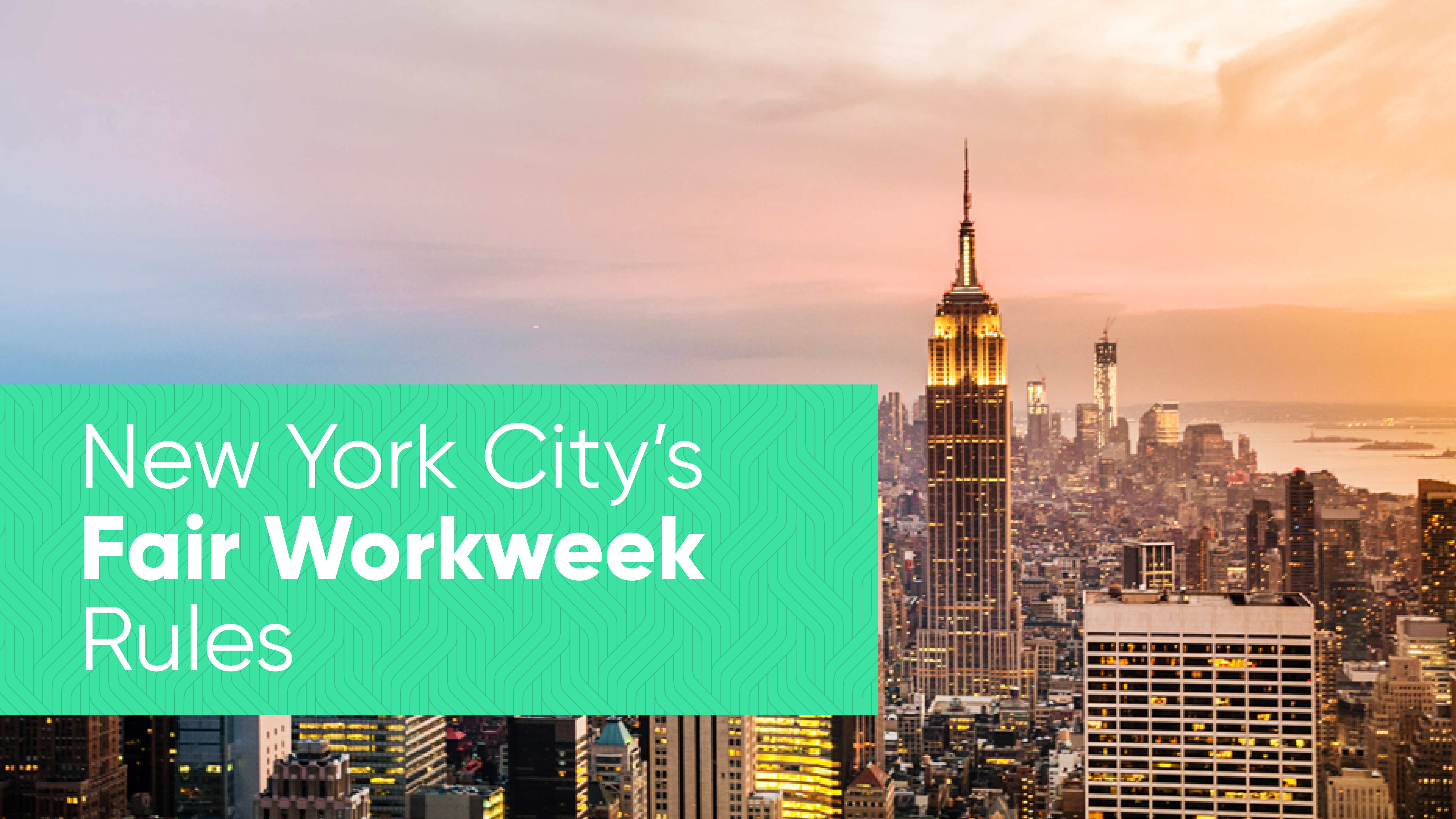 Fair Workweek legislation is sweeping across our major cities, and New York is no exception. 
Also known as predictive scheduling laws, Fair Workweek was created to create a stable, predictable work environment for service-based employees. 
NYC Fair Workweek laws apply to all fast-food workers and fast-casual chains with more than 30 locations nationwide, including franchisees. 
With unfair scheduling practices a widespread problem in the hospitality industry, the move has been welcomed by many, but it represents a huge challenge for employers. Restaurant groups and fast-food chains that operate in multiple regions and cities were hit especially hard, because Fair Workweek laws can vary significantly in different states.
While most restaurateurs applaud the sentiment behind the rules, they are complex and there are heavy fines for non-compliance. In fact, there have been some high-profile cases already.
Notable concepts in NYC have been featured for allegedly violating Fair Workweek laws, including providing schedule estimates and premium pay for employees working "clopenings." A lawsuit from the CIty of New York alleges that complaints were received from more than 30 employees at five Brooklyn locations. The department is claiming at least $1 million in compensation for workers, on top of civil penalties.
Some businesses have put dedicated finance teams in place to specifically deal with the fines. This is a costly solution that doesn't necessarily solve the root of the problem — poor scheduling practices.
Just Cause employment protection
Fair Workweek also includes a set of employment protection laws called Just Cause. Just Cause removes "at-will" employment for hourly workers that have worked 30 or more days in an organization.
Employers can only complete the following actions after following specific disciplinary procedures:
Reducing an employees schedule but 15%

Terminating an employee
In this post, we'll take a look at the specifics of the Fair Workweek and Just Cause laws in NYC and how Harri's scheduling tools protect your business from costly violations.
NYC Fair Workweek Regulations and Penalties
The lawmakers understand that hospitality is a fast-paced industry with numerous moving parts. It's not always possible to know exactly when additional team members are needed. But it is also important to protect employees against last-minute scheduling.
 The idea of a Good Faith Estimate is to ensure employees are given their schedules in advance so they know where and when they are expected to work.
The rules for New York say that Good Faith Estimates must:
Outline the number of hours a fast-food employee can expect to work per week.

Contain full details on days, times, and locations an employee is expected to work.

Be distributed to employees in writing or digitally.

Be updated whenever a worker's hours differ from their original Good Faith Estimate for 3 consecutive weeks OR 3 weeks out of a 6-week period.
Penalty for failure to provide or follow Good Faith Estimate: $200
"Clopening" shifts are a well-known issue in the industry. When employees are scheduled to work closing and opening shifts back-to-back, they often don't have enough time to get home and get adequate rest between shifts. 
The Right to Rest rules under New York's Fair Workweek ordinance forbid the scheduling of two shifts over two days when the first shift ends the day (ie. it is a closing shift) and when there are less than 11 hours between the shifts.
These rules can be exempt if an employee gives written consent and they are paid a $100 premium.
Penalty for violation of the 'Right to Rest' rule: $500 plus any unpaid $100 premium
Advanced Notice on Scheduling
Schedules are the framework for an employee's day-to-day life, serving as a guideline to their commutes, child care, and more. The advanced notice rules aim to protect employees from last-minute changes to schedules.
Employees in New York must be given their schedules at least 14 days in advance. Any changes made to this schedule must be relayed to the employee within 24 hours.
NYC Fair Workweek scheduling rules also state that:
Employees may turn down an added shift without providing written confirmation.

Employers do not have to get the employee's written consent if the work time is reduced or other changes are made outside the 14-day notice period.

Employers must pay compensation for changes made after the 14-day notice period and are required to get written consent from an employee to work the shift, if a change is within the 14 days.
Employers only need to pay a premium if changes to a shift add up to more than 15 minutes per shift. However, the worker must still consent in writing to any additional time worked.
Penalty for failure to provide advanced notice schedules: $200
Scheduling Penalties: Changes to the Date or Time of a Work Shift
No change in the number of hours:
Less than 14 days' notice: $10 per change

Less than 7 days' notice: $15 per change

Less than 24 hours' notice: $15 per change
Adding hours to the schedule: 
Less than 14 days' notice: $10 per change

Less than 7 days' notice: $15 per change

Less than 24 hours' notice: $15 per change
Subtracting hours to the schedule: 
Less than 14 days' notice: $20 per change

Less than 7 days' notice: $45 per change

Less than 24 hours' notice: $75 per change
Access To Hours For Existing Employees
The main aim of Access to Hours rules is to give existing, more senior employees the opportunity to take shifts before they are offered out to new hires. 
Employers must communicate new shift opportunities to existing employees before hiring new staff to fill the openings. Existing employees have a deadline to accept the new shifts before the employer is permitted to seek out a new hire.
Penalty for violation of Access to Hours rules: $300
Just Cause and Progressive Discipline
NYC Just Cause protects employees from sudden and wrongful termination or a significant cut to their hours. Restaurant operators were quick to note that the regulations stem from union roots.
Employers must have "just cause" to do the following:
Reduce an employee's weekly scheduled hours by 15%

Suspend an employee
What is considered a Just Cause reason and when is it applicable?
All of the following criteria must be fulfilled for an employee to be eligible to receive significant schedule cuts or suspension:
The employee was aware of the employer's policies and rules that may result in discipline or discharge.

Said policies and rules contain progressive discipline that was applied consistently and within reason.

The employee violated said rule or practice.

The employee was provided with relevant, quality training.

The employer conducted a fair and objective investigation of the employee's job performance
Just Cause applies to any employee that passes a 30-day probationary period. An employee that's only worked from 1 to 29 days is still subject to at-will employment and can be terminated without following Just Cause procedures. 
If any of the "just cause" actions are taken, employers must prioritize schedule changes for newer employees. That means the more senior an employee, the decreased likelihood that their hours will be cut and the more scheduling protection they have.
Employers that discharge employees under these "just cause" rules must provide a written, precious reason for the employee's termination. This explanation will be used as the employer's only supporting document if the discharge is challenged by the employee.
For a more detailed breakdown of Just Cause requirements, watch our NYC Just Cause compliance webinar, or read our Just Cause-specific editorial.
NYC Fair Workweek premium payment exceptions
Fair Workweek premium payments are not required when:
The employee requests a schedule change to a specific shift in writing.

An employee trades shifts with another employee.

The employer is forced to close the restaurant due to circumstances outside their control. 
Circumstances outside of an employer's control may include threats to workers' safety or the employer's property, public utility failure, a shutdown of public transportation, fire, flood, or other natural disasters, or a government-declared state of emergency.
The employer must pay overtime for a changed shift.
Protection Against Retaliation
Employees are fully protected under the NYC Fair Workweek law, which means that employers are not permitted to punish an employee or retaliate against them for exercising their rights. Fair Workweek is fully confidential, which means employers or managers may not inform other employees when a worker exercises their rights.
Retaliation includes disciplining, discharging, demoting, suspending, or reducing the work hours of the employee. It also includes harassing, intimidating, discriminating against, or threatening employees.
Employers are not permitted to coerce employees into providing consent to schedule changes that are not compliant under NYC Fair Workweek.
Penalties for retaliation
The employer must erase the disciplinary record and reinstate the employee.
Back pay: $500 plus any other money or relief to remedy harm to the affected employee.
Penalties for termination as a form of retaliation
The employer must erase the disciplinary record and reinstate the employee. 
Back pay: $2,500 plus any other money or damages to remedy harm to the affected employee.
Penalties for termination as a form of retaliation
Harri's smart scheduling tools empower managers to prepare for any existing and incoming NYC Fair Workweek requirements and create fully compliant schedules.
Intelligent scheduling doesn't just allow you to accurately predict labor needs to improve efficiency, but it also clearly outlines all potential premium payments and Fair Workweek to paint a complete financial and operational picture.
Here are some of the main features and how they help you comply with the law.
Easy-to-use Good Faith Estimates
Harri's scheduling tools make it easy to create an accurate Good Faith Estimate during onboarding.
Automatically generated Good Faith Estimate documents meet all the requirements of NYC Fair Workweek requirements. The process of creating the document and getting it reviewed and e-signed by the new hire is seamlessly integrated into the onboarding flow, so managers don't have to waste time printing, scanning, and sending paper documents.
Shift swaps are a key issue in New York's Fair Workweek rules. If employees arrange their own shift swaps, employers are not liable for those changes to the schedule. 
Shift swaps allow you to fill gaps in the schedule at short notice without having employees 'on-call' or being liable to violations for last-minute schedule changes.
Harri Hot Fill: "Uber For Your Employees"
Harri's Hot Fill system allows employees to exchange shifts directly with each other. It makes it super easy for managers to oversee a shift swap without direct involvement.
Here's how Hot Fill works:
When an employee is unable to attend work, they use the app to release the shift.

Other employees indicate that they would like to work that day if a shift is available (note, they are not 'on-call').

These employees receive an SMS message and push notification notifying them that a shift is available. 

The shift is allocated to the first employee to accept. 

The manager on duty is then notified of the employee's distance from work and the estimated time of arrival.
Calculation of Right to Rest Compensation Payment
Harri helps managers comply with NYC 'Right to Rest' rules by providing a real-time calculation of potential payments due for every clopening shift worked by employees. Managers receive automatic labor notifications if an employee's shift does violate these right to rest periods, enabling managers to make changes to the schedule before posting it to avoid fines or determine if a clopening shift is necessary based on labor availability.
Manager Alerts for Scheduling Penalties
Any schedule changes made after the NYC Fair Workweek advanced notice period are automatically relayed to your management team. The amount you are liable to pay for the shift change is indicated on the schedule and included in total wage cost calculations for full labor cost transparency.
Comprehensive Fair Workweek Cost Reports
Harri's real-time reports empower managers to make key strategic decisions on the wider scheduling policy across individual locations or your entire hospitality business.
Create real-time reports that outline:
Labor costs

Costs of scheduling changes

Premium payments

Other Fair Workweek violations
NYC Fair Workweek premium pays and violations quickly add up, especially for businesses with large teams and multiple locations. It's not unusual to see these costs rise into the thousands. 
Because Harri connects the dots between scheduling, employee time and attendance, labor forecasting, payroll, and more, a single point of access to this critical data is key to running a lean yet highly efficient workforce.
We built several Just Cause-specific tools and alerts to ensure hospitality operators do not accidentally violate any of the complex employment protection laws.
1. The system will alert hiring managers 25 days after an employee's first day.
Why is this important? Employees are only protected by Just Cause once they reach their 30th day on the job. Between Days 1 and 29, they're subject to at-will employment,
If a manager decides that an employee isn't a good fit, Harri will send them a reminder before Just Cause goes into effect, allowing them to freely reduce the employee's hours or terminate them if needed.
2. Terminations can be restricted to specific managers 30 days after an employee's first day.
To avoid accidentally violating Just Cause, operators can ensure that managers can only be fired by their direct manager, by an HR manager (perhaps someone who is very familiar with Just Cause's legal requirements), or another trusted member of your organization.
3. A warning will be issued when an employee is scheduled less than 15% from the highest total hours in their regular schedule within the previous 12 months.
Keeping track of every employee's regularly scheduled hours is near impossible when you're managing dozens of employees, let alone when their weekly scheduled hours can vary over 12 months. This automatic warning prevents managers from mistakenly violating Just Cause's scheduling requirements by tracking every employee's scheduled hours over the last year.
Stay compliant with NYC Fair Workweek
If NYC Fair Workweek has you scratching your head, you're not alone. HCM tools like Harri are built with Fair Workweek compliance in mind, as well as other operational nuances specific to the hospitality industry. 
Reevaluating your existing processes and/or HR tech stack is the first step in achieving an ai-tight compliance strategy at minimum cost. We strive to be hospitality's partner in compliance. See how our NYC Fair Workweek software paves the way for complete labor law compliance.