Explained: Seattle Fair Workweek Regulations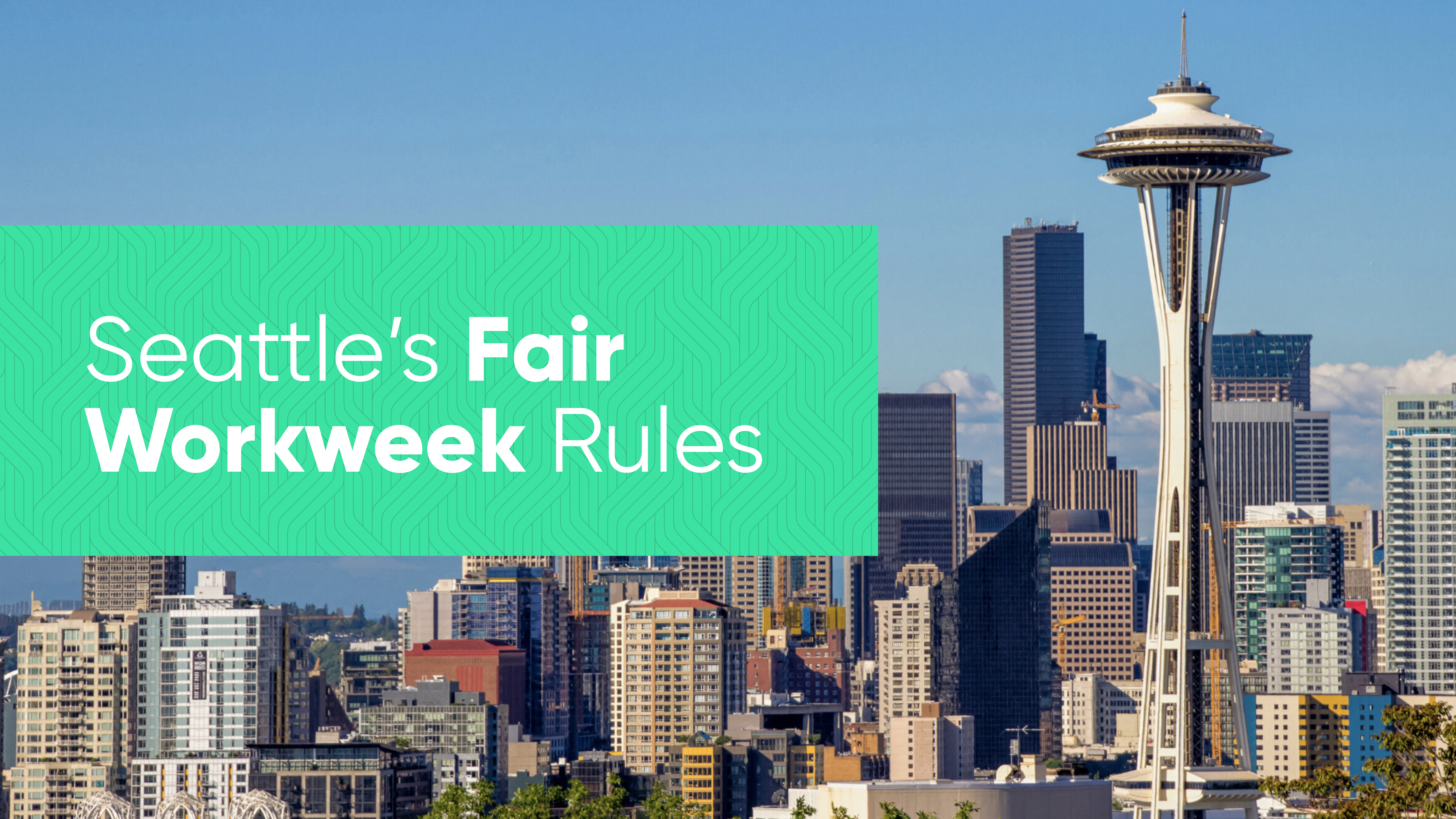 The Fair Workweek movement is sweeping the nation. New predictive scheduling laws, also known as Seattle Fair Workweek or the Secure Scheduling Ordinance in Seattle, are being implemented in the city in response to a call for more flexibility and transparency in the way schedules are created and distributed among shift workers.
While the hospitality industry generally welcomes the sentiment of protecting workers against unfair scheduling practices, the regulations are complex and difficult for managers to navigate. There are a number of different rules, exceptions and fee structures, and laws vary state by state, making it especially difficult for operators with locations across multiple jurisdictions.
In Seattle, the rules apply to full-service restaurants and fast-food operators with more than 500 employees worldwide.
And there are the heavy fines for violations.
Earlier this year, Mexican restaurant chain Qdoba, which has three locations in Seattle employing 47 employees, paid a settlement of over $96,000 over allegations brought under the Secure Scheduling Ordinance. The Office of Labor Standards alleged that Qdoba had failed to provide premium pay for work schedule changes or "clopenings" separated by less than ten hours. 
Some operators have resorted to employing specialist legal and financial teams to deal with the new rules, with the foresight that leaving themselves open to fines for violations could be catastrophic. But the cost of employing a whole team of experts is huge.
There is a far more cost-effective solution. Harri's smart scheduling tools give managers real-time data on the costs of their scheduling decisions, ensuring that they are in compliance with local laws.
Managers are able to give their staff the flexibility and security that the law has been put in place to protect, while saving time and increasing productivity, turning this potential catastrophe into a positive outcome for the business.
Let's take a look at the rules and penalties for Seattle and how Harri's system deals with the many challenges they pose to restaurant operators in the city.
Fair Workweek Regulations for Seattle
Good Faith Estimate
A Good Faith Estimate is required by the new law to give workers a clear picture of the times, days and locations at which they will be expected to work. It may be difficult for employers to know the exact schedule, but they should give their best estimate.
Seattle employers must provide a new hire with a written Good Faith Estimate of their work schedule at the time of hire. It should include:
Support for multiple languages or be in the employee's language.

The name of the employer, plus any trading names.

The employer's address, telephone number, and email address if applicable.

The employee's rate of pay, and overtime rate if applicable.

A full explanation of the tipping policy.

Details of the basis of pay (whether it is hourly, per shift, based on commission etc.)

Details of the employee's expected payday.
In addition to the Good Faith Estimate, the employer must provide a written forecast for the upcoming year of the employee's median hours per workweek and whether they should expect on-call shifts.
Once a year – or when there is a significant change in either employee availability or employer needs – this estimate should be revisited. 
Right to Rest
Right to Rest laws offer protection against the scheduling of "clopening" shifts, when an employee works a closing shift immediately followed by an opening shift. Often this means it is not possible for them to get enough sleep or rest between shifts. 
Employers in Seattle must schedule at least 10 hours between shifts. There are penalties in place to incentivize employers not to schedule "clopening" shifts.
Shifts separated by less than 10 hours are paid 1.5x the employee's hourly rate, even if the employee requests or consents to those hours.

Split shifts are allowed as long as there is a rest period of at least 10 hours between workdays.
Advanced Notice on Scheduling
Advanced Notice laws protect against employees being sent home when it's not busy, or asked to come in at short notice because someone has called in sick. The rules require employers to stick to their schedules or face penalties for last-minute changes. 
Employees must be given the schedule 14 days in advance, for both regular and on-call shifts. 
The employer must post the written work schedule in a conspicuous and accessible location, in English and in the primary languages of the employees of that particular workplace.

The employee may decline to work any hours offered that were not included in their work schedule.
Penalties for Changes to the Date or Time of a Work Shift 
No change in the number of hours:

Pay one hour at the employee's scheduled rate of pay.

Additional hours:

Pay one hour at the employee's scheduled rate of pay.

Subtracted hours:

Pay no less than half the scheduled rate of pay for the hours that were subtracted.
Grace Period
The grace period offers a little bit of flexibility to employers. 
Adding or subtracting 15 mins does not incur a penalty.

Any employee working past their scheduled shift must be paid extra if they work longer than the grace period of 15 minutes.
On-Call Protection
The employee must be paid half their rate of pay for on-call hours scheduled if the employer: 
Subtracts hours from a regular work shift before or after the employee reports for duty. 

Changes the date, start or end time of a work shift resulting in a loss of hours.

Cancels a work shift.

Schedules the employee for an on-call shift for which the employee does not need to report to work.
Access to Hours for Existing Employees
The Seattle Access to Hours rules protect employees from being excluded from the opportunity to take on additional hours. They lay out the rules for how employers must fairlly display the need for additional hours. 
Employers must offer additional hours to current employees before hiring new employees (in English and other relevant languages).
Exceptions
The employer is not liable to pay extra wages under the below conditions:
Shift swaps arranged between employees.

Additional hours are advertised via a mass-communication (although the employee can decline them).

Additional hours are communicated in-person during a shift, due to unanticipated demand (as long as the employee gives consent).

Hours are subtracted or added based on an employee's written request.

Subtracted hours due to disciplinary reasons (documented by the employer).

Shifts cancelled due to operational reasons outside the employer's control such as public utility failures, natural disasters etc.
Get Compliant with Harri's Intelligent Scheduling Tools
As we've seen, Seattle's predictive scheduling laws are complicated and the authorities are not afraid to hand out fines. So how can you make sure your business doesn't fall foul of the law?
Harri's intelligent scheduling tools have been developed to help restaurant managers cope with the new legislation. By using the tools to keep on top of the rules and proactively change schedules to comply, you can improve efficiency, keep staff happy, and avoid financial penalties.
Let's take a look at some of the key features and how they help you stay the right side of the law.
Support for Good Faith Scheduling 
Creating a Good Faith Schedule is not easy. Managers are forced to make predictions about schedules while keeping in mind the relevant local rules. Harri's onboarding system automatically generates a Good Faith Estimate in accordance with local rules. If you're operating in more than one jurisdiction, this means you can be sure your team is compliant wherever they are.
Rather than printing, signing, scanning and sending documents back-and-forth, documents are sent via the onboarding tools and signed electronically. Not only does this create a great first impression to new hires, it cuts out a whole load of admin for your managers.
Direct Shift Swaps
One thing the nation's fair workweek laws have in common is they don't penalize employers for shift swaps. If staff arrange their own shift exchange, even at short notice, you are not liable to pay a penalty. 
Harri's Hot Fill system makes it as easy as possible for employees to exchange shifts directly. By matching those looking for extra hours with employees unable to make a shift, the system allows you to fill gaps in your schedules at short notice, with little or no involvement from managers. 
Let's take a look at how it works.
Hot Fill – "Uber for your employees"
An employee cannot attend work and releases the shift.

Employees have indicated they wish to work on that day if a shift becomes available. Note, they are not on-call.

These employees are alerted that a shift has become available by Harri via SMS and push notification. 

The shift is assigned to the first employee to accept. 

At this point, the manager on duty is notified of the employee's distance from work and estimated arrival time.
Calculation of Right to Rest Compensation Payment
The Right to Rest rules are designed to stop the scheduling of "clopening" shifts. The problem for scheduling managers is that it can be a balancing act trying to avoid these shifts while taking into account the schedules of employees and the needs of the business. 
Harri helps managers by calculating the compensation due in real-time, so they can weigh the benefits of assigning "clopening" shifts and avoid them wherever possible. Allowing managers to proactively change the schedule based on the fees due means they can quickly make strategic decisions that would be very difficult to get right otherwise.
Manager Alert for Penalties Related to Schedule Changes 
In a similar way, managers also get alerts when they make schedule changes that contravene the fair workweek rules. They are able to define the compensation rules for employees so that they know in advance how much a schedule change will cost.
Making managers fully aware of the cost impact of schedule changes before they put them in place means they are able to make the best decisions for the business. It also offers peace of mind that they are not incurring fees unknowingly. 
Predictive Scheduling Premium Reporting
The premium reporting feature for schedule changes is a key strategic piece of the puzzle. Reports are automatically generated detailing all the fees resulting from schedule changes, saving managers time and energy.
The data can be scrutinized and decisions made on how to improve the scheduling practices company-wide. And the data can be easily passed to the finance department for processing.
Make Sure Your Business is Protected
If you're tired of seeing your restaurant managers wasting their time and mental energy stressing over fair workweek laws, there are tools designed to help. All the features we have talked about integrate seamlessly with the rest of Harri's restaurant management stack. This means all your data is secure and accessible across departments and locations. 
The benefits of getting on top of predictive scheduling are not only in avoiding fines. When managers are in control of scheduling and employees are given more flexible and accurate schedules, you'll see a boost in morale, not to mention the efficiency savings for your management team.
To ensure your team are scheduling the right way, get started with Harri's smart scheduling tools.