Restaurant Bytes: Joe Dominiak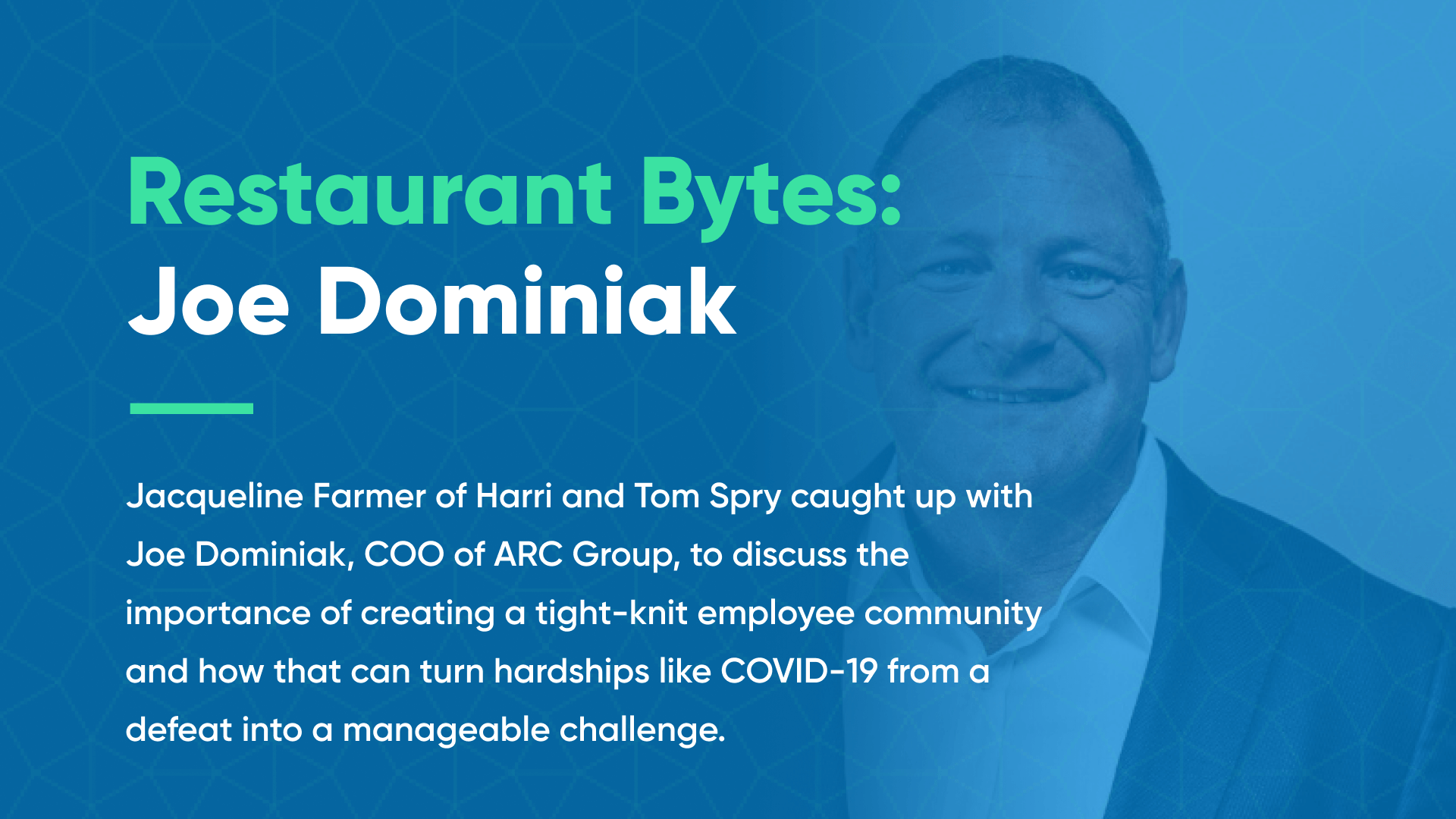 Welcome back to Restaurant Bytes! This is a short, virtual program that asks restaurant executives questions about the issues they are facing today. Restaurant Bytes is hosted by Tom Spry (Principal of Tom Spry Executive Search) and Harri's own Jacqueline Farmer (Enterprise Sales Executive). This segment caught up with Joe Dominiak, COO of ARC Group, to discuss the importance of creating a tight-knit employee community and how that can turn hardships like COVID-19 from a defeat into a manageable challenge.
The leadership team over at Arc Group are firm believers that the greatest asset to a company is the positive energy that its team brings. They cultivate that energy by taking a "family first" approach to instill employee pride, which has especially paid off in the wake of COVID-19.
Restaffing restaurants has proven to be one of the hospitality industry's greatest challenges, but Arc Group's community building approach helped them tackle this with ease.
There are three factors that contributed to the brand's success here:
A focus on employee and customer safety

Top-down and horizontal team empathy

Employee willingness to return
Constant communications within the Arc Group family was key. Even before the pandemic hit, they leaned into messaging platforms, social media, and Zoom to build those connections on and off-prem. That high level of transparency translated into a culture of trust that became critical during COVID-19's peak. Employees shared the good, the bad, and the ugly, which created an open support community that bolstered positivity even during tough times. 
"It really helped us see what it would take [to rejoin the workforce] and what our folks needed to come back and take care of our guests"
Arc Group also partnered up with other hospitality brands to create an alliance for COVID-19 safety. With this alliance, they promised to take extra steps to ensure both customers and employees were safe. Part of this initiative includes performing employee health screenings and posting them in stores to boost staff and guest confidence.
The result? Arc Group employees were more than happy to not only return, but to go above and beyond to boost sales during hard times. Everyone who came into work was committed to doing their best. That energy created an echo chamber of positivity which spread to other team members as well as restaurant guests, ultimately translating into increased customer loyalty.
"They did it as a team and that paid off because your guests saw that our team members were committed to something more than just a paycheck"
As Joe puts it, you could clearly see the employees' smiles through their masks!
Arc Group's commitment to company culture clearly pays off, and this is instilled right from the pre-hiring process. They don't use the term "hiring" though, they use "selecting" — they select the employee, and the employee selects them.
So, how did the employees go above and beyond in serving Arc Group customers? One employee suggested washing customer cars while they waited for their orders, which was extremely well-received. 
Click here to view the video.