Understanding Fair Workweek: What is a Good Faith Estimate?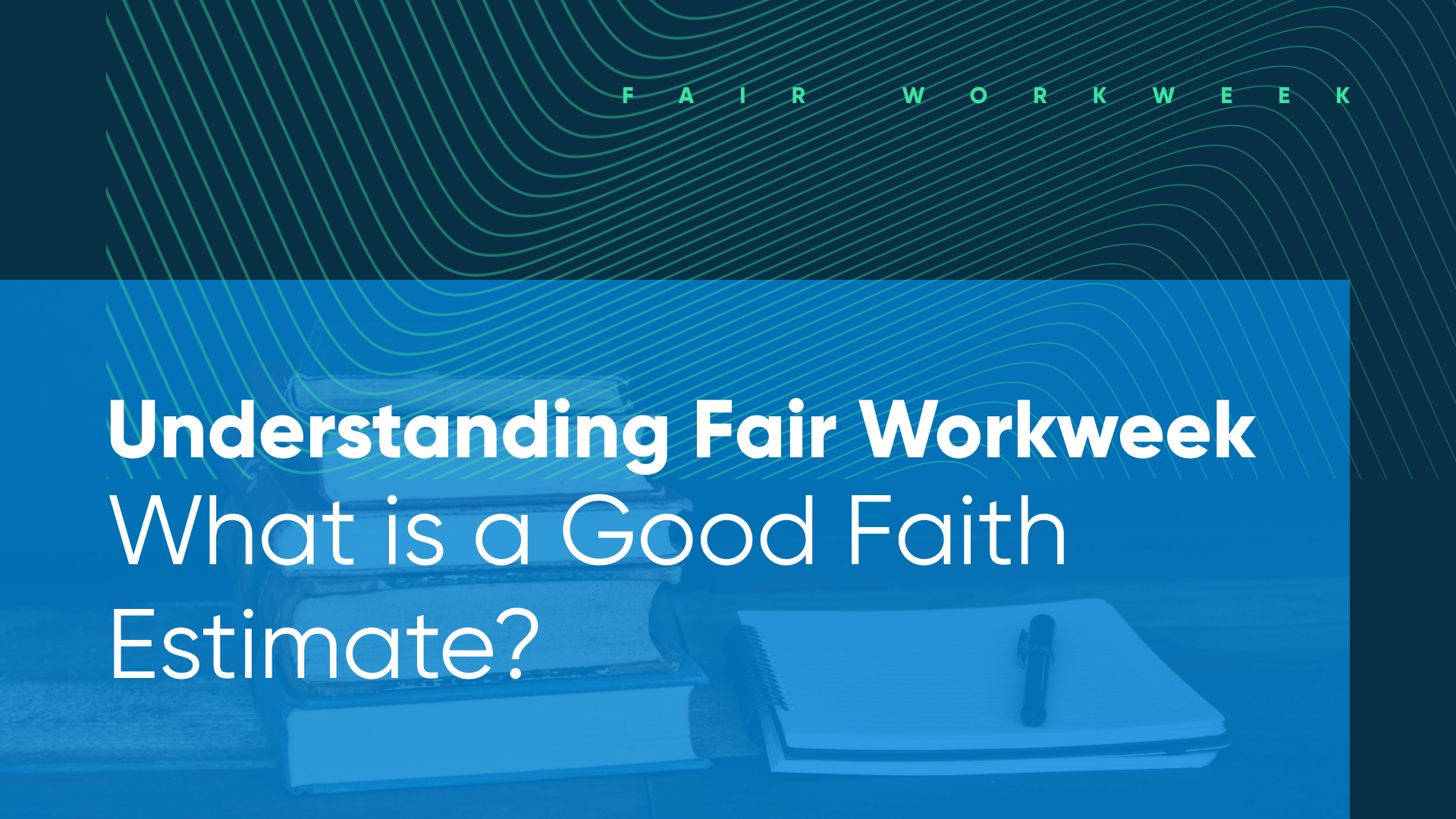 Unpredictable work schedules have plagued the restaurant and service industry for decades. Last-minute schedule changes and chaotic hours create a stressful work environment, putting a huge strain on front-line employees.  
Multiple states and cities across the US are adopting Fair Workweek laws, also known as Predictability Pay, to ensure that employees are well-taken and have a stable work environment. Cities that have begun rolling out Fair Workweek regulations include Seattle, Oregon, San Francisco, New York City, Chicago, and Boston.
Fair Workweek labor laws aim to bring stability to the hospitality industry by putting an end to these erratic and unstable schedules. These measures include posting work schedules in advance, providing premium payments to employees that experience last-minute schedule changes, and calculating hourly Good Faith Estimates outlining an employee's expected hours of work.
What is a good faith estimate?
A Good Faith Estimate is a data-backed prediction of how many hours an employee is expected to work per week. Employers may base Good Faith Estimates off of similar employee schedules, service demand, data forecasting modules provided by a tech solution, or other data sources.
Employers must provide a Good Faith Estimate when hiring a new employee, or at least once per year for existing employees.
Because so many factors come into play, calculating an accurate Good Faith Estimate document can be difficult. 39% of restaurant operators reported that calculating and updating Good Faith documentation as their top Fair Workweek compliance concern.
Although Good Faith Estimate requirements may vary by location, they all should include at least the following information:
The employee's approximate expected weekly work hours

If the employee is expected to work on-call shifts

The employee's start day (if applicable)
Good Faith Estimates are non-binding documents, but employers are expected to stick to them as closely as possible. If any scheduling changes need to be made, they need to be communicated and agreed upon by affected employees.
It can be difficult to calculate a good faith estimate for a fair workweek but HCM and smart scheduling tools like Harri turn this operational challenge into an easily manageable task.
Calculating employee Good Faith Estimates with Harri
Our suite of Fair Workweek tools includes a Good Faith Estimate incident tracker, making it easier than ever for managers to calculate, update, and distribute accurate GFE documents.
At this time, some of these requirements are city-specific, as noted.
Enter the following information in the Good Faith Estimate form:
Expected days of work

Total # of hours per week (NY) / Average # of hours per week (Philadelphia)

Expected shift hours & shift duration for expected workdays

Locations the employee will work at (NY)
When entering schedule estimation information, calculations can be based on the minimum, median, average number of, or total number of hours the employee is expected to work.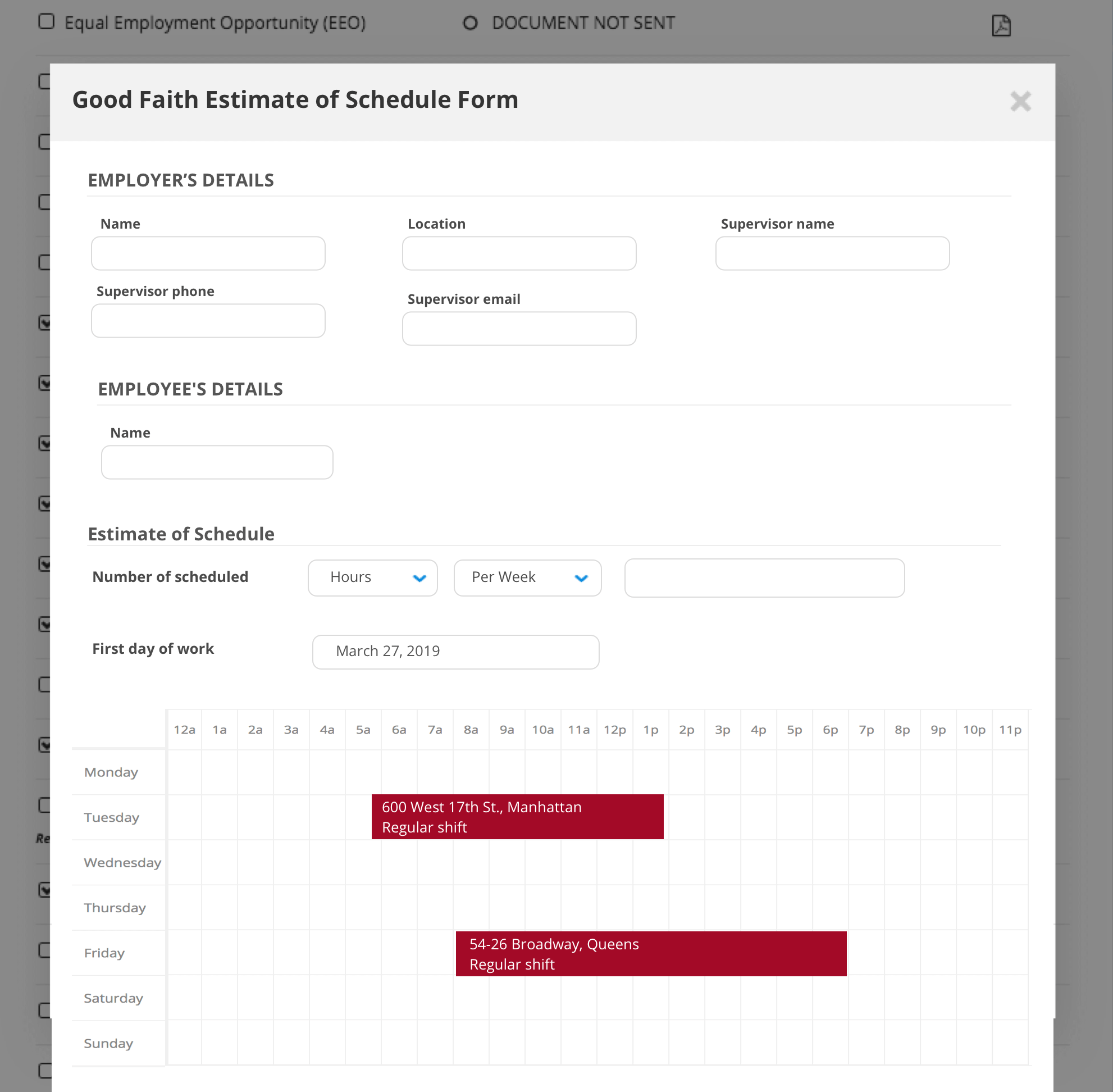 Once finished and sent for review, the employee can request changes to the Good Faith Estimate. They'll e-sign the document when approved, putting you one step closer towards Fair Workweek compliance. 
Good Faith Estimates are automatically included in an employee's onboarding packet, but new GFEs can be calculated, edited, and re-sent at any time from My Docs.
To see how to calculate a Good Faith Estimate in Harri, click here.
Hospitality is unpredictable and schedules aren't perfect, and there may be times where an employee's hours worked are vastly different than what their Good Faith Estimate outlined. Harri will automatically flag these incidents for you, making it easy to know when a new GFE needs to be issued for an employee.
Calculating and distributing Good Faith Estimates are only a small part of the Fair Workweek labor requirements. Employers who adopt tech solutions benefit from increased operational flexibility, empowering them to better adapt to any regulatory changes the future may hold. See how our Fair Workweek tools and Good Faith Estimate calculator can streamline your HCM processes.
Additional Fair Workweek resources
Want to learn more about Fair Workweek labor regulations and how to stay compliant?
Check out our list of Fair Workweek resources: