Amid Hospitality Labor Crisis, Harri Launches Integrated Conversational AI Platform to Address Hiring and Retention Challenges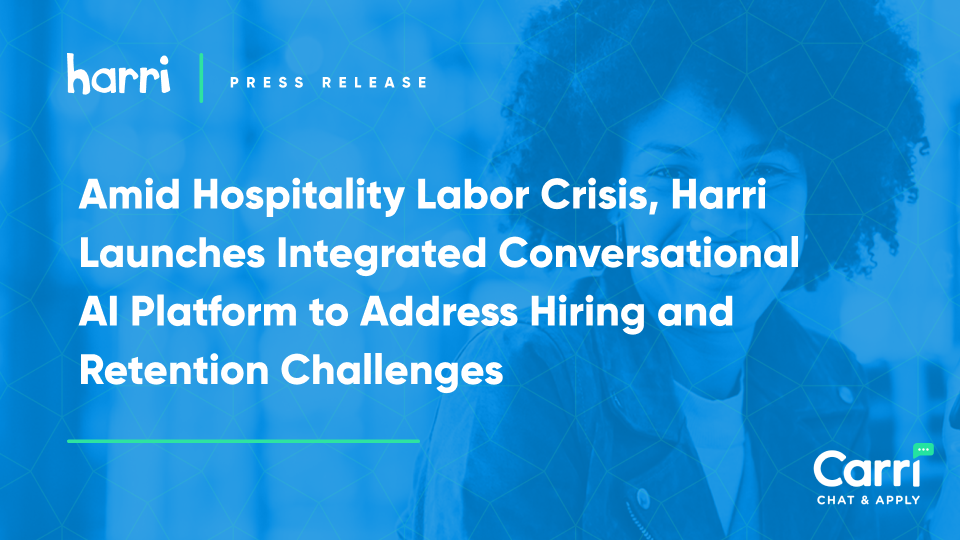 Harri, the leading Employee Experience platform for service industries, launches the first conversational AI platform intelligently integrated into day-to-day workflows of frontline employees.
New York, NY (4/16/21) – Harri, a vertically optimized HRMS platform serving 25,000 restaurant and hotel locations that represent over 4.2 million hospitality employees, announces the launch of Carri, the first truly integrated conversational AI platform to optimize communications and engagement throughout the employee lifecycle. The product to be released on the Carri platform – Chat & Apply – directly addresses an overwhelming demand for labor resulting from a combination of increased guest confidence and eased COVID regulations. The fight to recruit hospitality talent is more competitive than ever before. Harri delivers a robust and transformative solution to equip hospitality businesses with the ability to overcome an industry-wide staffing crisis and win the race for talent.
Carri Chat & Apply is a conversational AI platform that enables teams to acquire more candidates, offer unbiased interactions, hire faster and give managers valuable time back. More than just a chatbot, Carri aligns the process of applying, screening, interviewing, and sentiment gathering by delivering timely and action-oriented messages to candidates.  Integrated with Harri's Talent Acquisition Suite, Carri can act as an ambassador that removes friction from the process of attracting and acquiring talent at any scale.
Carri Chat & Apply delivers the following capabilities:
Manages the end-to-end application and candidate communications lifecycle via SMS, web-based chat on desktop and mobile, third-party messaging applications like Facebook Messenger, and more.

Supports conversations anywhere, anytime to assist hiring managers in screening, accessing, and coordinating interviews with viable candidates.

Enacts as a real-time ambassador to communicate additional details about the team, benefits, and culture with applicants.
About Harri
Harri is a vertically optimized employee experience platform built for service industries. Equipped with HRMS capability, enterprise businesses can build, manage, and develop their teams from a single system of employee-facing technologies. By embedding AI driven communications and dynamic business intelligence layers across the breadth of the employee journey, Harri powers people-first organizations to optimize business performance through employee performance. With over 380 clients, supporting 4.3m employees, Harri is helping the globe's most influential brands to digitally transform the experience of their people to strategically support their most important resource.
###
Press Contact:
Dan Murdoch, VP of Marketing
203-970-1127
marketing@harri.com