Finding and Retaining Restaurant Workers Amidst Vaccine Mandates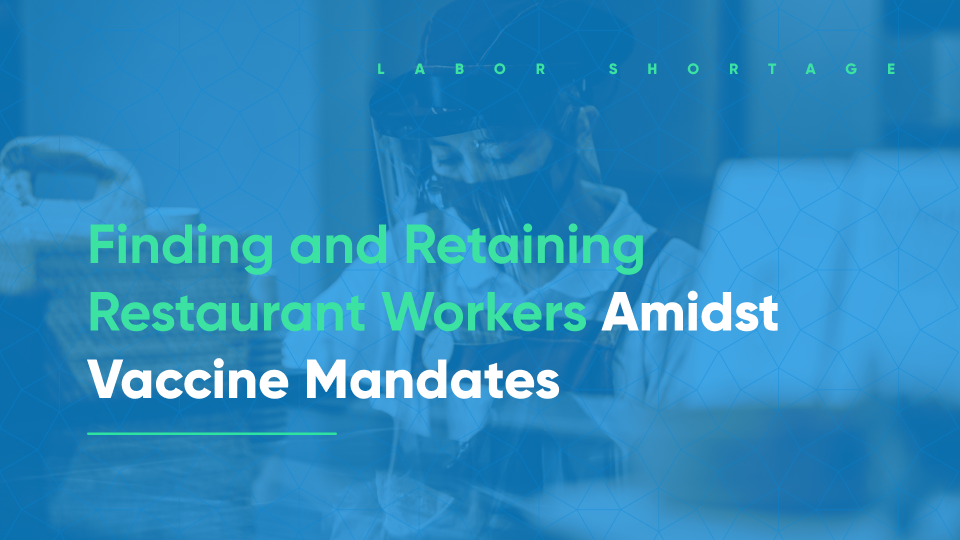 In the wake of COVID-19, hospitality is facing a myriad of issues ranging from short-term shutdown and mandatory closures to state-issued masking vaccination mandates. There's a huge shift in customer perception of what dining in brick and mortar spaces should look like, and while restaurants are still scrambling to adapt to meet demand on the fly, they're hampered by one of the most lasting impacts of the pandemic: a massive labor shortage.
The restaurant industry, in particular, has seen this dwindle since March of 2020. Stay-at-home orders, unemployment benefits, and people less willing to leave their homes are a few of the major reasons.
So, how do we overcome this labor shortage? Earlier this year, we put out our 2021 State of Talent Acquisition: Labor Crisis Conditions and Sentiments survey representing over 4250 US hospitality employees to address concerns in the industry. 
The most surprising data we found? 26% of hospitality workers said they would leave the industry if they were forced to get the COVID-19 vaccine in order to maintain work eligibility. 50% of those workers would love to retail, 47% would take gig economy jobs, and 38% would move to grocery.
To lose a quarter of the workforce during this critical period will prove extremely detrimental to a majority of restaurants. That means that brands within state or city-mandated vaccination requirements need to plan to fill their ranks for inevitable turnover.
What states are affected by vaccine mandates?
Vaccination mandates vary from state-to-state, and requirements change by the day. Certain restaurants may be affected by vaccine mandates, but we recommend checking with your state and city government to confirm the requirements your restaurant is expected to follow.
A number of states are requiring certain workers to receive a COVID-19 vaccine, typically those in the public health, state, or government sectors. These states include:
California

DC

Delaware

Illinois

Massachusetts 

New Jersey

New York

Oregon

Pennsylvania 

Rhode Island

Washington
A number of states aren't requiring COVID-19 vaccines at the moment, but are strongly encouraging them. Unvaccinated workers are permitted to work as long as they consistently test negative for the virus, and they may be subject to additional masking mandates. These states include:
Colorado

Connecticut

Hawaii

Kentucky

Minnesota

Nevada

New Mexico

Virginia

Vermont
These rules and regulations are constantly shifting and may vary depending on the locality. New York City, for example, is requiring restaurant workers to be vaccinated even though the rest of the state does not have this mandate in place.
With ¼ of the hospitality workforce threatening to leave because of COVID-19 vaccine mandates, brands need to step up their talent acquisition. 
So what's an operator to do? Look no further.
The future of hospitality talent acquisition means getting back to basics to ensure consistency, culture, and transparency from the moment someone sees your job ad to their 90th day on the job.
Our three keys to success are to optimize your ATS, focus on career branding, and leverage AI communication technology to streamline the hiring process for candidates and managers alike.
Amidst vaccine mandates and an industry-wide labor shortage, every applicant counts. When you're managing multiple candidates under different locations and brands, ATS optimization is vital to ensure no applicants slip through the cracks.
This is where an integrated ATS comes into play.
Does your brand utilize multiple job boards to source candidates? Great. But do they all flow into the same ATS and update in real-time?
How about updating a candidate's interview status. Is it easy for managers to view candidate information at a glance, then quickly update them based on their position in the hiring funnel?
If a candidate needs to pause interviewing, does your team have access to quickly engage with them and re-introduce them into the hiring process when the time is right?
There's countless scenarios to consider, and they can all be managed with Harri's hospitality-focused ATS.
Get the full picture of your hiring pipeline in an easily editable format. A drag-and-drop interface allows managers to update candidate statuses on-the-fly while also giving visibility into information and interview status regarding each applicant. These update in real-time and provide robust hiring insights baked on the application source of each candidate.
And for when a candidate is ready to interview, screening questions and background checks are integrated into the process to ensure that candidates are ready to roll the moment they meet with your team.
For candidates teetering on the edge of hospitality and another industry, a great job experience will be a huge determining factor if they choose to apply to your company or somewhere else. That includes day-to-day work, team dynamics. compensation, career growth opportunities, and community-building.
So if you offer stellar benefits and have an amazing family-like culture at your restaurant, shout that from the rooftops. Clients won't go out of their way to learn why your business is a great place to work, they need to be proactively told time and time again
Brands would also be keen to consider COVID-19 safety protocols outside of vaccine mandates. If your location has a strict masking policy, for example, showcase that in your job descriptions, provide signage at your front door, and ensure employees are following it. If your business is more lax on such issues, let prospective employees know the basic do's and don'ts of your safety policies. 
Our career branding tools make it easy to create an eye-catching careers page and a branded application experience that shows off your brand's personality and gets talent excited to work for you, all while providing them with the necessary information they need to understand the "why" of your business. 
Embedding company culture into each step of the hiring process helps attract candidates and retain them throughout the entire hiring process.
Instead of going to Glassdoor for the inside scoop, they'll straight to you, increasing the odds of successful application completion.
Conversational AI is the biggest appeal for hospitality businesses looking to hire candidates quickly at scale. Why? Because of its potential to enable stronger, consistent candidate engagements without weighing down managers.
However, many of these tools fail to provide a humanistic hiring experience and can actually cause candidates to drop off earlier in the recruitment process.
That's where Carri, our AI-powered conversational ambassador, comes in.
At a time where candidate ghosting is extremely high and applicant confidence is low, Carri ensures powerful, people-centric candidate engagements within a fully branded environment.
Aside from streamlining the application processes, Carri can automatically screen candidates and allow for self-service interview scheduling while also acting as a 24/7 resource to address any and all candidate needs.
Does an applicant have complex questions regarding interview dress code or what your company's masking policy is for vaccinated workers? Carri can handle it. Perhaps a candidate needs to fill out tax forms to finalize the hiring stages but is lagging on submission. Carri can remind them, offer assistance, and alert a manager when the proper documentation is submitted.
All in all, Carri exists to dramatically improve hospitality talent acquisition efforts during our industry's most competitive race for talent yet. And yes, she integrates with the ATS and career branding tools mentioned earlier.
Attracting fleeting talent with technology
Restaurant operators are busy. And when your hands are full with customer management, it can be easy to compromise focus on the talent acquisition process for solidifying the customer experience. 
Simple yet powerful technology is no longer a nice-to-have, it's a necessity to eliminate application friction and ensure a healthy hiring pipeline.
Learn how our Talent Acquisition Suite can help your brand overcome the labor shortage.