The Better Way to Schedule in a Fair Workweek World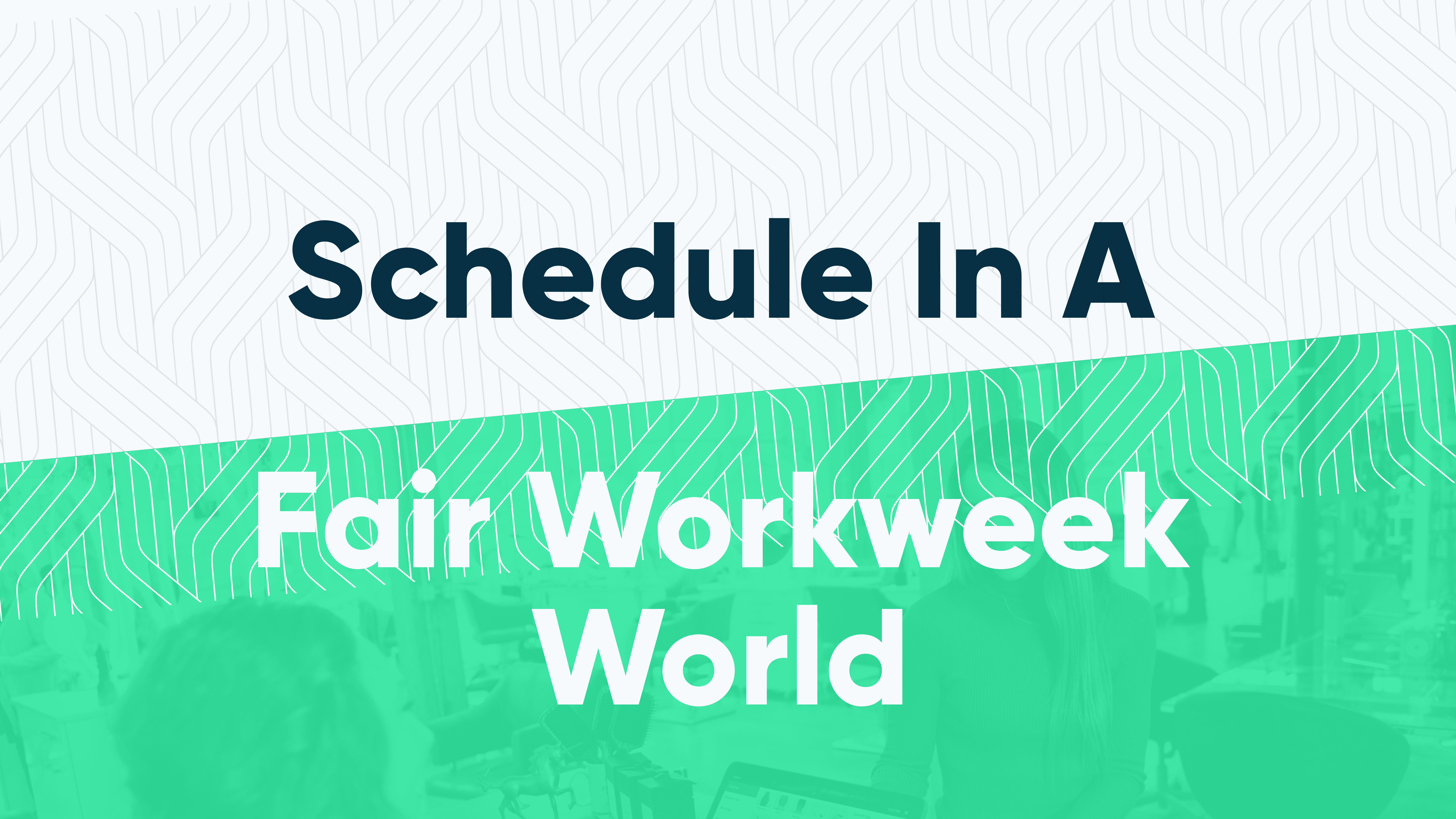 Across the U.S., an increasing number of state and local governments have passed (or are in the process of passing) "fair workweek" legislation. These measures, sometimes referred to as "predictive scheduling" requirements, are written to provide shift workers with greater stability, predictability, and flexibility in their work schedules. For example, these laws fine employers if employees are not notified in advance of their schedules or are asked to work both closing and opening shifts. They also require employers give part-time staff opportunities to increase their hours before adding new staff.
While the retail and hospitality industries scamper to make sure they are not in violation of the new laws, the right technology can make Fair Workweek policies easier to implement. Smart scheduling — with its real-time reporting and alerts, as well as an integrated approach to labor costs — has become all the more essential as such legislation expands.
Why the Industry Shift
According to the Fair Workweek Initiative, the group promoting the legislation, workers in part-time, hourly-waged jobs experience unpredictable, last-minute, fluctuating work hours. This instability makes it difficult for them to coordinate childcare, make a budget, or stick to school schedules or second job responsibilities.
For example, a single mother may arrange paid childcare and purchase a bus ticket, only to arrive at her restaurant job to learn that she's no longer on the schedule due to a last-minute change. She's already out the money she just spent trying to make her wages for the day.
Supporters also say that in some ways, restaurant technology has made this situation worse for hourly workers as more businesses are using algorithms to automate workers' schedules based on projected customer demand, often on an hourly basis.
To encourage more sustainability in work-life balance, fair workweek policies include advance notice of work schedules, access to more hours, adequate rest between work shifts, and flexible, responsive schedules.
Fair…But Complicated
While Fair Workweek legislation may help create more sustainable work lives for employees, they involve a long list of regulations and expensive fines for employers. Let's dive into Philadelphia's Fair Workweek Employment Standards Ordinance, which goes into effect January 1, 2020. Under the new law, an employer must pay $1,000 if in violation of any of the following:
The employer must post and provide written notice of work hours no later than 10 days before the first day of any new schedule. Beginning on January 1, 2021, the written notice must be provided no later than 14 days before the first day of any new schedule.
Employers must maintain records for 2 years showing compliance, including good faith estimates of work schedules, modifications thereto, written consent to work shifts, offers of work shifts to existing employees and responses to those offers, as well as payroll records showing predictability pay (time and a half).
For each employer-initiated change to the posted work schedule that occurs after the required advance notice, the employer must pay predictability pay in addition to the employee's regular pay for hours actually worked.
Philadelphia is the 8th jurisdiction to pass such laws. New York, LA, Seattle, San Francisco, San Jose and Emeryville, Calif. have similar requirements and in some cases, even steeper penalties for infractions. In fact, between 2007 and 2018, the full-service restaurant industry paid $213.5 million in overtime and minimum wage violation fines while limited service restaurants paid $44.4 million in that time.
Industry Response
Fair Workweek legislation, with its detailed oversight, costly consequences and extensive recordkeeping requirements, has a strong possibility to become an administrative nightmare in the hospitality and retail sectors.
In response, some operations have developed a new role specifically designed to combat law violations — the field manager, a salaried employee that visits locations with last-minute staffing needs to prevent asking shift workers to work at a premium rate. Others operations have already created dedicated finance teams whose sole purpose is managing the total cost and identification of such Fair Workweek violations.
Yet the answer may not be adding more personnel. Staying ahead of violations requires real-time reporting as well as an integrated picture of how individuals' schedules affect the big picture of the operation as well as compliance. The right workforce management software platform can provide such a holistic solution by not only preventing and notifying compliance issues but also providing a means to mitigate such risk consistently and predictively in the first place.
Industry Solutions
As a talent technology platform, Harri can help employers create schedules that offers next-generation tools to support operators in navigating Fair Workweek regulations. Specifically,
With Harri, a Good Faith Estimate document is integrated at the point of onboarding for employees to review and sign. In states like New York, the Fair Workweek law requires employers to provide employees with a good faith estimate of their work schedule upon hire and an updated good faith estimate if there is a "long-term or indefinite change." The updated good faith estimate must be provided to the impacted employee as soon as possible and before the employee receives the first work schedule following the change.
When managers publish or change schedules, Harri provides real-time infraction alerts for Fair Workweek violations and forecasts premium pay fees. Fair Workweek laws requires employer to pay premium wages for schedules not in compliance — often a flat amount for "clopening" or time and half of the employee's hourly pay for schedules that have been changed without appropriate advance notice.
With Harri, users can view the detailed reporting behind all the premium payments that resulted from scheduling changes. This offers real-time visibility into potential and accrued scheduling penalties granting a real-time account of realized and potential violation costs, which may vary by state.
The Harri interface offers an integrated approach to pushing Fair Workweek violation data immediately to payroll for a real-time and reliable picture of labor costs.
With Harri, employees' records – schedules, premium pay, and schedule changes – are stored on the cloud-based platform for ease of record keeping, in compliance with Fair Workweek regulations.
As Fair Workweek laws become more commonplace in local governments, finding the right solution means you've found a cure for such complicated compliance issues, not just prevented them. Visit Harri and request a demo to see how it works for yourself.