NRA 2019: The 5 Biggest Takeaways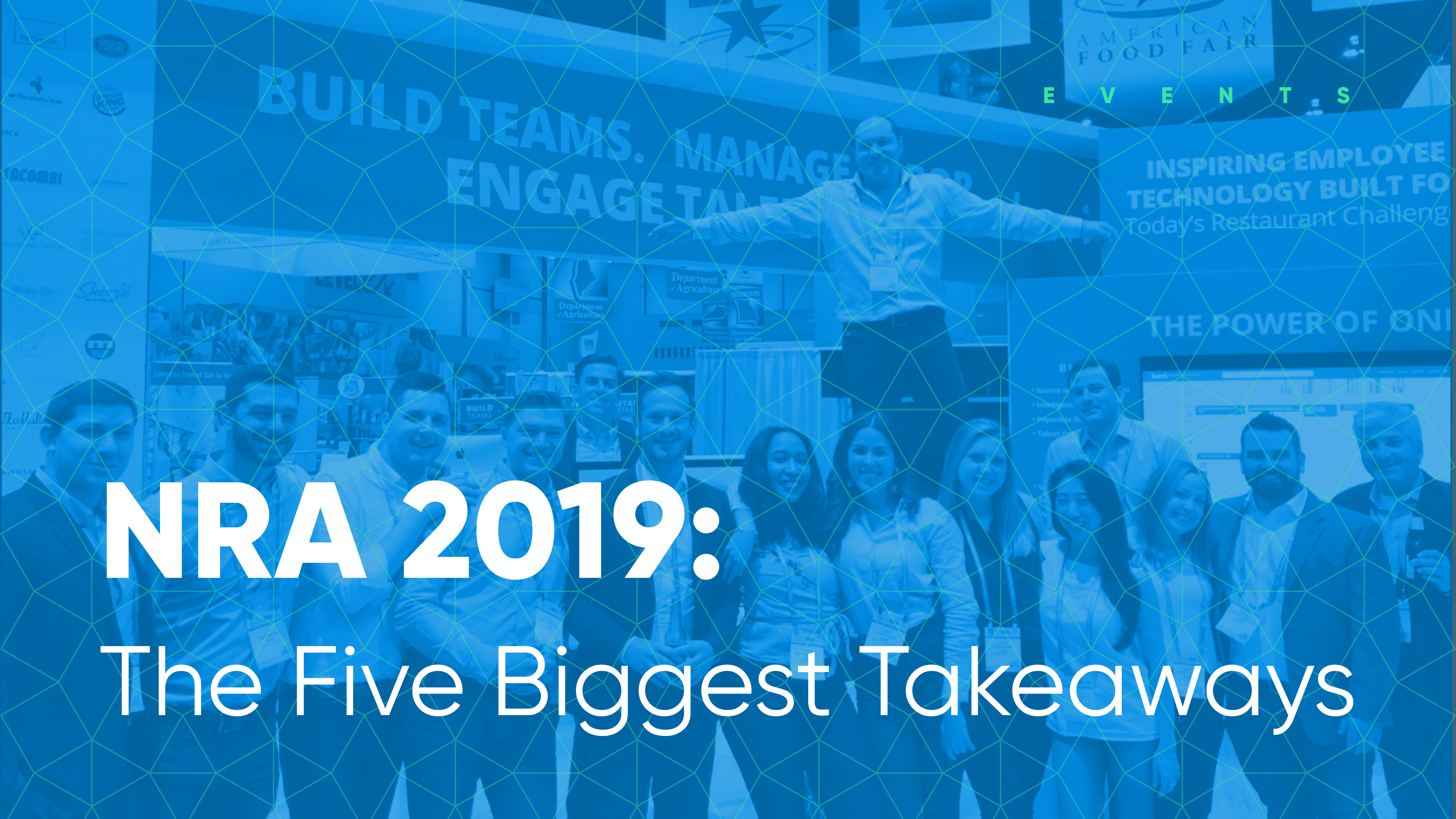 Team Harri landed last week in Chicago and was in full force at the 100th National Restaurant Association Show. After days of meeting with hundreds of operators, here are the 5 biggest takeaways from this years conference:
Retaining talent continues to be the primary concern of operators. With a majority of the industry narrative pointing to engagement as the key to preventing turnover, it's very clear that a single dimensional solution, such as engagement, to solve a multidimensional problem such as turnover, is an incomplete perspective.  With wage inflation pressure adding fuel to the labor problem fire, operators are turning to lose-lose decisions in order to counteract rising labor costs and maintain economic equilibrium. According to the 2019 Wage Inflation Survey by Harri, 45% of operators experienced labor costs rise from 3-9%. In response to these changes, operators are making changes to labor and business operations ranging from reducing employee hours, raising menu prices, cutting jobs, and closing locations.  What's compelling is the correlation between those decisions and a spike in turnover events (35%) that are occuring in their wake. Moreover, with 71% of respondents raising menu prices, the industry experienced a rise in average check values by 4.2% but a 2.1% drop in traffic (Bloomberg Intelligence). This means that operators (emphasis on casual dining and QSR) are losing elasticity in their pricing and will no longer be able to lean on rising prices to simply counteract increases in labor costs.  They need a sustainable solution that allows them to be strategic in managing the economics of the business, particularly in all facets of labor control.
Unit-level adoption of employee facing technology continues to be an up-hill battle. Finding a technology platform that's built from the ground up, mobile friendly, highly intuitive, and meet the expectations of a multi-generational workforce is a rare find. The Workforce OS by Harri was built with this entirely in mind. With the introduction of the Harri Live, operators can grant frontline managers the ability to access live sales and labor data, full scheduling management, employee requests, communications, live compliance alerts and team data in one place, on the go. The application also allows for cross-location employee data, which is useful to have up to date information at the unit level.
Gaining a better hold on the candidate experience to attract and hire the right talent has felt like mission impossible for the industry.  Whilst there is certainly an emphasis on winning the War for Talent in today's labor market conditions (the process of driving greater volumes of candidate acquisition in a highly competitive market), there's simultaneously a Race for Talent (getting highly qualified candidates from point A 'applying' to point B 'hired and on the job' as quickly as possible).  Understanding and optimizing each stage of the candidate lifecycle is achieved in combination of enacting talent acquisition best practices and deploying device agnostic technology that generates speed, efficiency, and positive candidate experiences. As recently demonstrated at HR in Hospitality, Harri's partnership with CAVA has resulted in a 107% improvement in their average time to hire and has attributed to their success in opening numerous locations in complex geographies and significantly improving overall retention rates.
"People related challenges are just par for the course in the hospitality industry, everyone is dealing with the same issues and there isn't a clear way to address them."  We hear this almost everywhere we go given that so much focus remains on the inflation of raw materials, optimizing inventory management, and delivery's impact to the bottom line. The acceptance of the 'status quo' plagues the industry and leads to costly mistakes.  Recent examples like Steak n' Shake, who made a 7.7 Million dollar error by misclassifying 286 store managers best exemplifies this conclusion. Specifically, Steak n' Shake classified managers as exempt from overtime pay, then required those managers to work 50 hours or more a week in order to perform non managerial tasks while restaurants were understaffed.  This primary example only bolsters the need for tools such as Harri's Smart Scheduling system. A system that is integrated to a biometrically controlled time and attendance environment and combines seamless demand forecasting, activity based manning matrices and streamlined schedule distribution to create an optimized sales forecast and help organizations maintain compliance to avoid costly errors like Steak n' Shake.
The power of one. The days of building, managing, and engaging teams through fragmented, one-off technologies are no longer an option given today's operating environment.  The industry needs to deeply consider the value of consolidating employee facing technologies in the pursuit of driving the retention, engagement, and satisfaction of their employees.  According to TDn2K's People Report, there is a direct correlation between brands that have the best metrics in overall sales, traffic, and intent to return and the aforementioned people related KPIs.  Aside from embracing the concept of driving business performance through employee performance, there's a tremendous opportunity to aggregate all employee related data under a single system ( from both pre and post hire events) that deliver insights to drive business performance and sales, optimize hiring practices and costs, decrease turnover rates, drive people related compliance and risk mitigation, and optimize labor costs.  Only a platform that integrates all of those points and interactions of the employee lifecycle can achieve such a powerful dynamic.